ARE DEMONS REAL?
RASA ANSWERS SIMON ON YAHOO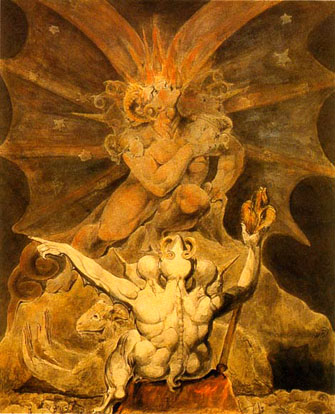 The Number of the Beast is 666
William Blake


RESPONSE TO RASA'S 'WHO IS THE DEVIL?'
Hello Rasa, It's good to be here. I found the link at the Gangaji group.
I prefer Swami's interpretation of the Devil as being just negative thoughts coming from the minds of human beings. I don't believe in an entity as such. "The Devil Rides Out" film from the sixties portrayed him as a real being that is worshipped by the misguided. In that film they modeled him on the Baphometic Goat...
RASA: BAPHOMET IS NOT THE DEVIL, BUT AN INNOCENT CREATURE OF NATURE RELIGIONS. THIS IS A PERVERSION OF HI AND WAS USED BY THE INQUISITION AGAINST WITCHES.
...venerated by the Knights Templar. The symbolism behind this image is profound and is misunderstood. Later films like "The Exorcist" and "The Evil Dead" carried on the scare-mongering.
RASA: I HAVE THE ORIGINAL STORY OF EXORCIST, AND IT WAS A BOY - AND NOTHING AS EXTREME AS THE MOVIE. BUT THESE THINGS DO HAPPEN.
This was all good propaganda for the Christian Church, which likes to scare us all into believing that we should be good sheep and sit in the pews every week!
RASA:I AM AFRAID YOU GOT IT ALL WRONG. THE CATHOLIC CHURCH NO LONGER PREACHES HELL, DEMONS AND SUCH. NOR DO THEY PREACH PURGATORY. THEY HAVE BECOME A BUNCH OF WIMPS AFRAID TO GET SUED OR SOMETHING. I SAY BRING BACK THE TEACHING OF DEMONS AND HELL AND YOU WILL SCARE MORE SOULS INTO GETTING SAVED. THEY ARE WALKING INTO HADES SIX DEEP, TOTALLY UNAWARE OF THEIR FATE. I HAVE SEEN THEM. WALKING ON THE BROAD HIGHWAY OF HELL OBLIVIOUS OF THEIR FATE. AND THEN, THEY ARE THERE BEFORE THEY KNOW IT. THEY HAVE DONE NOTHING ABOUT THEIR SALVATION, AND THEY ARE SPIRITUALLY DEAD. SUDDENLY, THE IRON BARS FALL DOWN ALL AROUND THEM AND THEY CANNOT ESCAPE. FIRE ENGULFS THEM. THEY SCREAM FOR RELEASE BUT THERE IS NONE. WE CAN ONLY DETERMINE OUR SALVATION WHILE WE ARE HERE ON EARTH. THE BROAD HIGHWAY TO HELL IS SIMPLY THE WORLD AND THE FELSH. THE DEVIL DOES NOT EVEN HAVE TO MAKE YOU DO ANYTHING EXTRAORDINARY. SIMPLY DOING NOTHING WARRANTS A ONE- WAY TICKET TO HELL.
Its basically a power trip and a way of controlling the minds of the masses.
RASA: A VERY LONG TIME AGO THEY DID PREACH INDULGENCES BUT NOW, IT IS NILL. NADA. YOU CAN WHISTLE DIXIE FOR INFORMATION ON HELL AND PURGATORY OR DEMONS. IT IS TOTALLY OUT OF DATE IN THE CATHOLIC CHURCH. SO YOU ARE WRONG.
I think exorcism can do more harm than good.
RASA: THIS IS UNSUBSTANTIATED
Demon possession, if it exists at all, is probably very rare. If a person is mentally ill or has psychological problems, the last person I would send him to is a minister of the church!
RASA: INDEED, BUT IF THEY HAVE DEMONS, WHERE DO YOU SEND THEM?
I worked in a psychiatric hospital here in the UK some years ago and heard about one man working there, a leading psychiatrist, who performed exorcisms. He even conducted one on a patient within the hospital grounds (for which he was reprimanded!). This person was a member of the fundamentalist evangelical Outreach Trust and also responsible for producing a leaflet warning of the dangers of just about everything from the Ouija board to homosexuality!
RASA: HIS THEOLOGY MAY HAVE BEEN MISGUIDED (CERTAINLY HOMOSEXUALS ARE BORN AND DO NOT MAKE A CHOICE TO BE THAT WAY) BUT THAT DOES NOT MAKE EXORCISMS BAD. WHAT ARE THEY DOING IN THESE HOSPITALS? ARE THEY HEALING PEOPLE? IN MOST CASES, FROM WHAT I HAVE SEEN, THEY ARE DRUGGING PEOPLE INTO OBLIVION. SOONER OR LATER, MOST PEOPLE HEAL FROM NERVOUS BREAKDOWNS OR TEMPORARY DISORDERS. THESE ARE MERELY FACILITIES TO KEEP PEOPLE AS ZOMBIES SO THEY DON'T MAKE ANY TROUBLE FOR FAMILY AND SOCIETY. IN THE OLD DAYS THEY USED PHYSICAL RESTRAINT, NOW THEY DO SAME WITH CHEMICALS.
I think everyone in London got one of those through their door.
RASA: PERHAPS THE LEAFLET HAD SOME GOOD IN IT? NOT ALL BAD? AFTER ALL, THEY WERE NOT DRUGGING ANYONE INTO OBLIVION.
I think Bob Larson is jealous of all the public interest shown in the Harry Potter stories.
RASA: I DOUBT THAT. I DO NOTICE THAT HE STAYS IN TOUCH WITH CURRENT EVENTS AND USES THEM TO HIGHLIGHT THE ISSUES. HE'S A GO-GET'M PROMOTER.
Perhaps he has secret desires of being a wizard himself? Lol.
RASA: REALLY, HE IS QUITE A CELEBRITY, ON TV ALL THE TIME.
The same fuss is usually generated every year before Hallowe'en. I'm not in favour of the "trick or treat" craze (which was a later addition imported to our shores from the States) the festival itself is very old and pre-dates Christianity.
RASA: SAMHAIN IS A HOLIDAY WHICH I AM HAPPY TO SAY HONORS THE DEAD. PURGATORY IS VERY SPECIAL TO ME. MY PRECIOUS SOULS WHOM I HAVE BEEN MINISTERING TO FOR YEARS. I HAVE ACTUALLY BEEN THERE IN BILOCATION. THEY APPEAR TO ME FREQUENTLY.
I do believe in the Eternal Light. I'm not so sure that its something we have to 'reach' for but rather something we are living in already and are, for the most part, unaware of. Isn't this what Gangagi teaches?
RASA: I AM NOT FAMILIAR WITH HER EITHER, BUT ANOTHER SWAMI WHO IS SIMILAR TO HER, I KNOW MORE ABOUT. THEY ARE ALIKE ON THEIR TEACHINGS, SO ONE RECOMMENDS THE OTHER.
I'm rather new to her teachings but she has struck a chord with me and I suspect the knowledge she has is very simple. We just have to be still and live in the eternal moment to see it.
RASA: SOUNDS LOVELY. THE TRUTH IS SO SIMPLE, BUT GETTING TO LIVE IN IT CAN BE COMPLICATED. JUST AS GOD IS WITHIN US, BUT THE HARDEST POINT TO REACH.
MUCH LOVE TO YOU, GURURASA.
DISCUSSIONS ON