HOW TO BECOME RASA'S DEVOTEE
"SEEKER OF TRUTH, I AM A GREAT LINK TO GOD"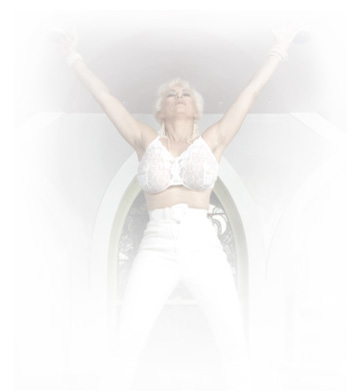 Here is how you worship me - by installing me into your heart.
I am a Guru. That means I am a channel or instrument of God. I I have an anointing to do faith healing, shaktipat (transmission of Holy Spirit) and in my ministry I prevent souls from going to Hell (God uses me this way) and also bring Light to souls in purgatory, which lifts them up into Heaven. I can also bring a person closer to God by the transmission of the Holy Spirit, all the way to Enlightenment or Self Realization.
Many of the men who accepted me as Guru within a day or two had great meaningful dreams, in which MotherGod or a symbol of her, or I myself appeared to them. These dreams spoke to them in various ways. This is what made some of my devotees believe in me - because they had these dreams. You can see them on the page called 'GuruRasa and her Devotees' and there is a link right on the front of my site to those letters.
How is this done? It is a simple and easy thing to become my devotee, but you must be sincere. In doing this you understand that I am a link, gateway to God. I am fully One with God, and when you link to me, the grace of God begins to flow into you.
Here is the ceremony. First, you must have a fairly clean heart and mind. I mean by this that you are ready to be linked to me, that you are not overly attached to others so strongly that it makes it difficult, that they blot out any possibility of a new person in your heart.
Sit quietly somewhere, all alone. As solitary and meditative as possible. Now picture your heart as clean, empty, hollow, waiting for me. Then say to me,
'Rasa, I invite you into my heart as my Guru. You are One with God. My heart is open and ready for you.'
Say these words a few times, and then picture me inside your heart. I could be standing, sitting or whatever, or even lying like a baby curled up in your heart.
God over this a few times. If you do not have a dream, vision or revelation the first night, do it again and again until it happens.
When I did this 'installation' with my Gurus, sometimes it worked the first night, sometimes it started the second night. I would continue praying, and they would appear night after night. If you continue praying to me I will appear night after night in your dreams.
What you do in this ceremony is you open yourself to me so that I can link you to myself and God. Why do you need a Guru? For the Power. The Guru, already Enlightened and One with God, brings you more Power. You keep your Guru until you grow and don't need her any more, and then, you go on your way and find another Guru. This could take months or years.
This is how you worship me! In yoga this is acceptable. They say, 'The Guru is God.' You are God also, but you need to realize this, and the Guru helps you find yourself!
If and when you go through this and you have the dream or revelation, you declare it to me on my group 'RasaDevotees.' Then later I put it on my devotee page, with your image if you like.

NOW THAT YOU'VE BECOME A DEVOTEE
TRY TAKING THE PLEDGE
---
---