WILLIAM BOND & RASA VON WERDER
SQUARE OFF ON DEMONS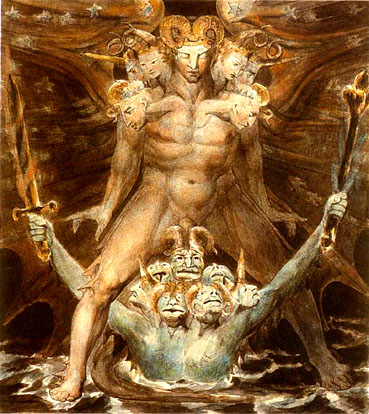 The Great Red Dragon and the Beast from the Sea
William Blake
RESPONSE TO RASA'S 'WHO IS THE DEVIL?'

I have to say that beliefs in devils, demons, forces of darkness and the like are simply beliefs invented by patriarchal religions to make the people powerless.

RASA: HOW DOES IT RENDER PEOPLE POWERLESS?

A extreme example of this is in Australian aboriginal tribes the Witch doctor can kill another member of the tribe by 'pointing the bone'. All he has to do is point a bone at someone else and he will die. But
it is not the Witch doctor who does this, all he does is give his victim a negative suggestion.

RASA: CORRECT, BUT WHAT HAS THIS TO DO WITH DEMONS?

Then his victim believes this suggestion and it is he who then kills himself through his belief he will die.

RASA: THE REASON THE WITCH DOCTOR CAN KILL IS BECAUSE EACH MEMBER OF THE TRIBE HAS GIVEN HIM ACCESS INTO THEIR DEEPER EMOTIONAL CENTERS. THE SAME THING HAPPENS WITH ANY OF THOSE IN WHOM WE BELIEVE DEEPLY (PARENTS, MINISTERS, GURUS) THEY, IF HARBORING NEGATIVE OR EVIL FEELINGS AGAINST US, CAN RENDER TERRIBLE DAMAGE.

Witch doctors and priests have been playing these cruel mind games with people for thousands of years. They invent demons or devils of some kind and frighten the people with them.

RASA: PART I YES. PART 2? HOW DID THAT COME INTO THE PICTURE? THAT NOW IS A SEPARATE ISSUE.

Then they claim they can 'fix' the problem with rituals and holy water and the like.
RASA: GRANTED, THERE ARE GOOD AND BAD EVERYWHERE - GOOD AND BAD SHAMANS, WITCH DOCTORS, MEDICAL DOCTORS, PSYCHIATRISTS, GURUS, PRIESTS AND SO ON. YOU FORGET THOUGH THAT THEY ALSO DO GOOD. IT IS ALL PSYCHOLOGY, BELIEFS AND FEELINGS - AND WE DO NEED SOMEONE WITH EXPERIENCE, SPIRITUAL KNOWLEDGE, TO HELP AND GUIDE US. NOT ALL OF THEM ARE EVIL, SURELY!

So they then become the people's 'protectors'. So in the end, it is just a protection racket and a way to gain wealth and power from ordinary people.

RASA: THE WORLD IS NOT A PERFECT PLACE. AGAIN, THERE CAN BE GOOD HERE AS WELL AS BAD. WITCH DOCTORS HAVE THEIR VERSION OF PSYCHOLOGY AND PSYCHIATRIST ANOTHER. WITCH DOCTORS USE SUGGESTION AND RITUAL AND SO ON. THEY ARE A COMBO OF RELIGION AND PSYCHOLOGY. BUT TODAY, SAD TO SAY, WHAT IS THE REMEDY IN THE BIG CIVILIZED WORLD? DRUGS. PEOPLE IN MENTAL HOSPITALS ARE NOTHING BUT WALKING VEGETABLES, ALL DRUGGED UP. THE MIND HELP THEY GET IS MINIMAL. THEY ARE TAKEN FROM FAMILY AS THE BURDEN IS TOO GREAT, AND QUIETED WITH DRUGS. IN THE OLD DAYS THEY USED PHYSICAL RESTRAINT. NOT IT IS MOSTLY CHEMICAL.

The problem is that these very negative suggestions tend to get worse and worse in the hands of imaginative and dramatic people. So if people say believe in 'possession' then it can become a reality. Because the mind is very powerful.

RASA: I HAPPEN TO KNOW THERE ARE THREE KINDS OF POSSESSION. ONE IS BY HYPNOSIS, WHERE A SUGGESTION OR AN EXPERIENCE INGRAINS A BELIEF IN A PERSON. SECOND, IN CHRISTIANITY WE HAVE WHAT IS CALLED 'HOLY POSSESSION' WHERE ONE CAN BE TAKEN OVER BY A SAINT OR CELESTIAL INFLUENCE. THIRD, THERE IS THE DEMONIC POSSESSION.

NOW DEMONIC POSSESSION IS NOT SO SIMPLE. I COUNT MYSELF LUCKY THAT I HEARD OF BOB LARSON AND SPENT ABOUT A THOUSAND BUCKS ON HIS VIDEO COURSES. THE WORD 'POSSESSION' IS DISCOURAGED BY HIM AND HE JUST USES 'DEMONIZED.' IT IS A WHOLE SCIENCE AND WORLD HERE TO BE LEARNED. YOU HAVE NO IDEA HOW MANY DEMONS AND WHAT KIND A PERSON CAN BE INFLUENCED BY, WITHOUT BEING ANY KIND OF A RAGING WIERDO. EVERY SIN, EVERY TENDENCY, EVERY COMPULSION, FIXATION, ADDICTION, BAD HABIT, CAN HAVE DEMONS JUMPING IN AND INFLUENCING THE INDIVIDUAL. TO GET THEM OUT CAN BE QUITE A PROPOSITION.

The priests know full well the power of the mind. If you read the Bible you find it is all about the power of belief and of the mind. The trouble is that patriarchal priest having found out about the power of the mind, then went on to abuse this power.
This is why it is important to create religions that give the people positive suggestions and beliefs about themselves and the world we live in.
RASA: EVEN PATRIARCHAL RELIGIONS SUCH AS CHRISTIANITY, JUDAISM, AND ISLAM DO TEACH LOVE. LOVE IS THEIR HIGHEST NOTE, AND PERFECT UNION WITH GOD. THE ONLY PROBLEM IS IN SORTING OUT THE SEXISM FROM THE LOVE.

We need religions about love, healing,and harmony.

RASA: THE WORLD IS A COMPLICATED PLACE. THERE IS EVIL IN IT AND THERE ARE DIFFERENT SCHOOLS OF THOUGHT ON WHERE THAT EVIL COMES FROM. I BELIEVE THERE IS MORE THAN ONE ANSWER. SOME EVIL COMES FROM OUR OWN HUMAN NATURE, BUT THE DEVIL AND DEMONS EXACERBATE THIS OR USE IT TO MAKE IT WORSE. THEY TEMPT US ALONG THE LINES OF OUR WEAKNESSES AND TENDENCIES. THIS IS A KNOWN FACT FROM ALL THE SAINTS OF THE CATHOLIC CHURCH.

Not religions about fear, judgment, demons and illness.
RASA: YOU HAVE TO HAVE FEAR. THERE IS GOOD FEAR AND BAD FEAR. ANYONE WHO LOVES GOD FEARS LOSING GOD. AND SO YOU DO YOUR VERY BEST TO BE GOOD SO YOU DO NOT LOSE GOD.

YOU NEED TO FEAR THE LAW, LEST YOU BECOME LAWLESS.

YOU NEED TO FEAR LOSING YOUR HEALTH SO YOU PROTECT IT.
JUDGEMENT: WITHOUT JUDGEMENT, OR JUSTICE, THERE WOULD BE NO RIGHT OR WRONG, NO RULES, NO GOOD AND EVIL. IT WOULD BE AN ANYTHING-GOES WORLD. THANK GOD FOR THE POLICE AND FOR GUARDIAN ANGELS WHO COME BETWEEN US AND THE WORST HARM.
DEMONS AND ILLNESS: TO TEACH ABOUT DEMONS AND ILLNESS DOES NOT MAKE THESE COME UPON US. IGNORING THEM WILL NOT MAKE THEM GO AWAY. WE NEED TO KNOW HOW TO PREVENT DEMONS AND ILLNESS, AND SO WE NEED KNOWLEDGE AND INFORMATION ON SAME.
YOU NEED TO FEAR LOSING THE LOVE OF FELLOW HUMANS BY BEING KIND AND CONSIDERATE...........................
THE PATRIARCHAL RELIGIONS ARE NOT ALL BAD. MOST OF IT (EXCLUDING THE SEXISM AND DISCRIMINATION AND SEXUALTY WHICH ARE TIED IN TOGETHER) IS GREAT STUFF. CERTAINLY I GOT MUCH OUT OF CHRISTIANITY AS WELL AS EASTERN THOUGHT.
DISCUSSIONS ON