BELIEVER ADAM'S INTRODUCTION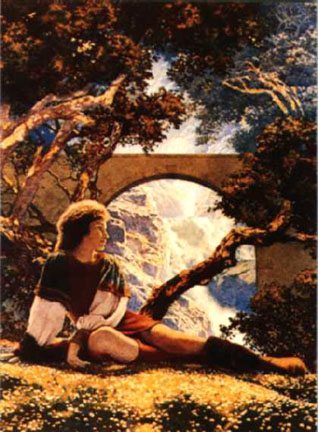 .
Knave
Maxfield Parrish
Dear Guru Rasa, greetings to you! Thanks for your interest in learning about me. My birthplace is UK and I now live in London. I have always had an interest in theology, especially Greek Orthodox religion and the religious icons in churches but I ended up studying philosophy for 8 years at university. In the philosophical disciplines things tend to become very abstract and with respect to God He/She was beginning to resemble some type of remote Platonic form!
RASA: THE WORLD OF ACADEMIA IS A COLD, DRY PLACE. IT IS NOT KNOWN FOR ITS FERVOR TOWARD GOD. HERE THE VEIL BETWEEN GOD AND SOULS IS THE MIND OR INTELLECT. THEY MUST RELINQUISH THIS FOR THE LIGHT TO PENETRATE THEIR BRAIN.
I still love philosophy very much but am now trying to return to a more 'intimate' and 'warm' relationship with God, not just to speculate about the nature of God and love but to actually feel it!
RASA: INSTEAD OF READING ABOUT SUGAR, YOU WANT TO TASTE IT! INSTEAD OF SEEING A PHOTO OF MOTHER'S MILK, YOU WANT TO DRINK FROM HER BREAST, FEEL HER WARMTH, LOVE AND INTIMACY!
Regarding 'suffering'. I do not think that I have REALLY suffered when things are put in context. I have something to eat each day and somewhere to sleep and I am grateful to God for this.
RASA: GOOD ATTITUDE! BE GRATEFUL FOR WHATEVER WE HAVE. THAT IS THE PLATFORM OF PERFECTION.
I am really a very joyous and happy person...
RASA: BECAUSE YOU ARE IN A STATE OF PERFECTION, MY SON. IN THIS STATE EVEN YOUR DARKEST HOUR IS LIVED IN UNION WITH OUR LORD. AND THAT IS HAPPINESS! IT IS THE PEACE SURPASSING UNDERSTANDING. YES, YOU ARE ONE WITH GOD. THERE IS YOUR HAPPINESS!
...but through my experiences in life and dreams I have - as I said - become much more aware and sensitive to the machinations of evil and how it works through people and myself.
RASA: THERE IS YOUR SUFFERING. YOU ARE SENSITIVE TO WHEREVER GOD IS NOT.

I hate evil with all my heart and all my soul...
RASA: THE MORE ONE LOVES GOD, THE MORE ONE HATES EVIL. YOUR LOVE IS GREAT AND SO YOUR HATE OF EVIL IS ALSO GREAT.
...after seeing how it has destroyed some great people that I knew and how it's trying to destroy me but I will never bow down to it! Evil attacks love...
RASA: YES, YOU SEE IT CLEARLY. THE OPPOSITE OF GOD/LOVE IS EVIL/HATE AND ALL THE FORMS THIS TAKES. COLDNESS, INSENSITIVITY, CALLOUSNESS, CRUELTY, SADISM, ENVY, AND ALL SIN.
...in all it's forms so that everything and everybody becomes alienated from each other. Simple things like the 'human touch' and 'human warmth' become strange...
RASA: BECAUSE THE DEVIL AND SIN ARE HERE, WE ARE ALL AFRAID OF EACH OTHER, AS EACH PERSON IS A POTENTIAL GIVER OF PAIN AND HURT
...as does the whole world so that we are strangers in our own universe that was given to us by God.
RASA: PEOPLE LIVE IN BUILDINGS SURROUNDED BY OTHERS, NEVER SAYING HELLO TO ONE ANOTHER. THEY PASS EACH OTHER ON STREETS WITHOUT A NOD. THIS IS UNDERSTANDABLE IN SOME CASES. (DANGER OF VIOLENCE FROM BEING FRIENDLY!) BUT IT NEEDS TO WARM UP.
I am sorry if this sounds weird to you dear spiritual Mother but this is how I see things.
RASA: NOT WIERD. I AM IN THE SAME WORLD, SEE AND FEEL THE SAME THINGS
---
---