DEVOTEE ALTON'S LETTERS OF
PRAISE & TESTIMONY TO GURURASA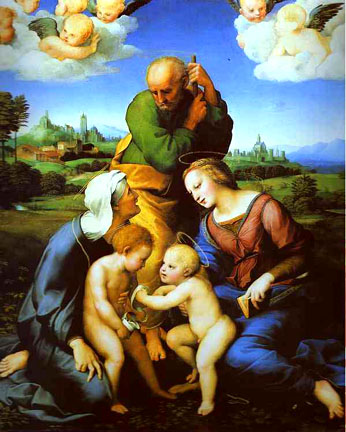 Canigiani Holy Family
Raphael
I have noticed the following changes since I accepted Rasa an my beloved guru.
My back went out the other day and it is very painful, however I am not reacting as per usual by having negative thoughts about wanting to exit my vehicle and become disembodied as soon as possible.
The pain does not seem to have the same effect that it has previously. I have had a very low tolerance for pain in the past.
I actually am not even asking that my back be healed and that the pain should immediately split. That is not to claim that I wont do that which is necessary to heal it, just that if it does not recover I wont have an aversion to it staying around.
I probably will resume my meditation quest, but if I don't it wont matter much.
I seem to be much more content about letting happen whatever happens.
Some folks have said negative things about Rasa, but I have found that she has talked to everyone with a loving heart and if she does not then those that are not very nice need a comeuppance.
More as it happens.
Love,
Alton
February 1, 2006
Yes their romantic love and companionship is so heart warming Sai, but you know there is nothing so high and wonderful as loving ones Guru and now Alton after many long eons has found Rasa, or should he say Rasa has come and embraced Alton into Rasa's womb of love and nurturing..
Only when you see another as your Self is love not merely and illusion. Rasa is Alton and Alton is Rasa. Come join us dearest Ana?

Love,
Alton
February 2, 2006
DISCUSSIONS ON

---
---