PROOF OF ANYA'S HEALING
THROUGH RASA'S SHAKTI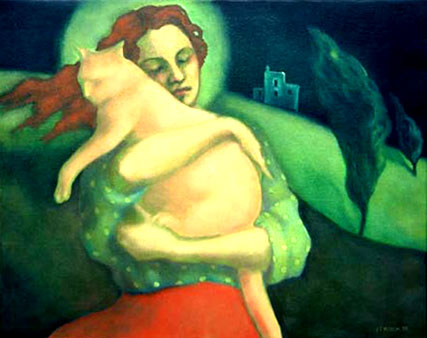 The Holy Cat
J. T. Winik


HAS ANYA THE HOLY CAT REALLY BEEN HEALED?
HERE IS PROOF OF YES, YES, YES!
3 TESIMONIAL LETTERS FROM KATHLEEN TO RASA
Discussion between GuruRasa and General Kathleen (who owns Madame Anya, Holy Cat)
RASA: I AM SO INCREDIBLY HAPPY ABOUT ANYA'S HEALING......... ARE YOU SURE SHE IS REALLY HEALED!?


I decided to not mention it to Jim, to see if he noticed anything without being prompted by me. He came home at 6:00 tonight, and by 7:00, he had already noticed something different about Anya. "What happened to this cat?", he said. "She looks younger, and her fur is brighter." He also noticed that she was rolling around on the floor at about 8:00, and playing with the dog's ball at midnight. After he'd commented on all of these things, only then I told him about her healing and initiation. He said that he could easily believe it, because "she looks younger than I've ever seen her, almost like Dusty." (Dusty is my nephew's kitten, and she is only 4 months old!)


Anya will see her veterinarian for her allergy injection in the first week of February. At that time, I'll ask him to comment about her spinal health and rheumatoid condition. I don't think that he will give us a written statement (he's not the kind of guy who believes in sainthood for cats!), but his examination will be very interesting.


Last night, she fell asleep on the shrine table. At about 4 a.m., she woke up and seemed to be leaving the bedroom. A few minutes later, I was awakened again by a strange scratching sound underneath my bed. I turned on the light, and I saw a little cat head peeking out at me.


The kittens used to play a game in which they would hide under the bed, then pull themselves out in an upside down position with their bellies showing. Anya could never play this game, because her back was too sore.


Last night, she played it for 1/2 hour, as if to say "See, I am as healthy as a kitten again!" And then she fell asleep in my bed, purring comfortably.


This morning, she woke up in a twisted and awkward-looking position, but with a lovely smile on her face, as if she was saying "Look, I can sleep comfortably in ANY position now!" She is so bright-eyed and happy.


I've been thinking about your dream. It connects to Anya's life in several ways. I'll respond to it in my next letter. It's very clairvoyant, actually!!!!
Love you!
Kathleen & Anya
SECOND DREAM OF ANYA & MORE
Hello Beloved Rasa! I've been thinking about your 2nd Anya dream. I think that it is related to her child-bearing time, in several ways:


RASA: I SAW HER TUMMY AREA, AND SOMEONE & I (GOD) CLEANED OR WASHED IT. WHAT NEEDED HELP WAS ON TOP OF HER TUMMY WAS A GROUP OF DARKISH 'BALLS' WHICH WERE I UNDERSTOOD, LIKE BACTERIA OR CONTAINING BACTERIA - SOMETHING THAT HAD TO BE REMOVED. MYSELF AND THIS OTHER PERSON REMOVED THESE BALLS.


Anya's kittens were dark-colored. Three were black with white feet, and looked exactly like Anya. The other two kittens were mixed black-and-white, in a pattern like a cow has.


Also, Anya had mastitis in several breasts when she came to us. This is a bacterial infection of the breast tissue. She couldn't nurse all of the kittens at the same time, and it was very frustrating to her. She would put the kitten next to an infected breast, but the pain would make her swat them and send them away.


We didn't want the kittens to have antibiotics from her milk, so we worked on her infection with garlic and other natural remedies. (We made something very similar to Dr. Schulze's plague tonic, in fact.) She was so hungry that she ate anything, even kibble soaked in garlic water! Meanwhile, I fed the kittens 6 times per day with formula, using an eyedropper. We couldn't completely overcome the infection until the kittens were weaned, so Anya never had an opportunity to comfortably lie down and nurse her kittens. It must have been terrible for her emotionally. And it could explain why, ever since then, she has tried to nurse any small animals that she meets (other cats, a hamster, a guinea pig, and even Freddy the dog.) She has unfulfilled needs for nursing and mothering someone. This is such a perfect connection to the dream, especially since her infected breasts were the ones on her lower belly.


RASA: PS - I THINK WHAT YOU SAID ABOUT NOT TELLING HUBBY & WHAT HE SAID, WILL MAKE A VERY GOOD ADDITION TO HER PAGE - GIVE PEOPLE MORE FAITH SHE WAS HEALED


I always do this. I didn't say anything this morning either, until Jim mentioned that Anya had been awake earlier in the morning, and had been playing with him "like a kitten".


I feel so differently about her now. I have always adored her, but it was a human/pet relationship. Now I call her my "little sister" because I can see your grace shining through her big round eyes. She is literally glowing with spiritual energy.


Isn't this just wonderful! I feel as if we have proof of your grace, sufficient to convince thousands of people (but not the goons!)
Kathleen
January 29, 2006
UPDATE ON JANUARY 31ST
Anya says hello, she gave you a YELLOW milk jug ring today. These are hard to find, because our milk usually has a green cap. So this is a special item!


I'm writing an article about "darshan photos" which includes a cute story about Anya. She was sleeping on the shrine, and when she woke up, she scratched herself and made your picture rattle. She turned around, made a submissive gesture to the picture with her head and paws, and then rubbed it and purred. It's as if she was saying "sorry" to a real person who was sitting there. She is truly aware of your real presence in the photo, which is why she bypasses the telephone to sit with your photo when I'm speaking to you. You are more present in the picture for her. She also talks to the photo, and this is really charming. It's as if she is telling you her whole life story in cat language. She's a real example of the power of a guru image to help in transformation.


Love you, PURRRRRRRR!
Kathleen & Anya
January 31, 2006

DISCUSSIONS ON
---
---