WOMEN'S EYES LIGHT UP
AS CECILIA PREACHES 'WOMAN THOU ART GOD'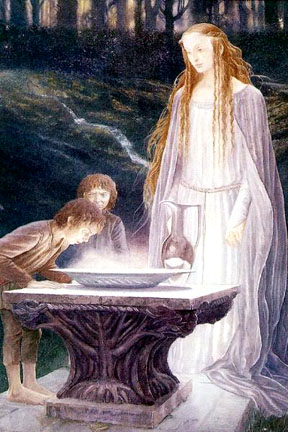 The Mirror Of Galadriel
REPORT FROM CECILIA
REGIONAL DIRECTOR IN AFRICA
Rasa, I greet you, I have a short report to give, this past sunday meeting I started to preach to my women about the power of women, and for them to know that woman is god. Indeed it was a wonderful service as I saw transformation in the eyes of the women, some were surprise and I can see that their eyes have started to open to the real truth. I am planning to move to the provinces were we have another branch to meet and talk with them also.

I have a feeling that in this part of africa there will be a breakthrough of this Mission.

Dear Mum, is there any tapes or books that i can use and share to these women as I teach and spread out? I will be looking forward for your quick respond. Thanks and stay blessed.

Your's beloved
Devotee Cecilia
Abu-bakr kainte
January 17, 2006
RESPONSE FROM RASA
DEAREST DAUGHTER & SISTER, PRAISE BE TO MOTHERGOD AND CECILIA FOR STARTING THE WORK IN AFRICA!
I WILL BE SENDING YOU MATERIALS AS SOON AS YOU PROVIDE A MAILING ADDRESS.
I AM EXHILARATED THAT YOU HAVE STARTED PREACHING AND THAT MEANS THAT THE SHAKTI (HOLY SPIRIT POWER) IS NOW WITH YOU IN AFRICA. I PROMISE YOU THAT IN ALL THAT YOU DO, I WILL BE WITH YOU IN POWER, IN LIGHT, IN TRUTH, AND IN LOVE. YOU WILL SPEAK, I WILL BE INSIDE YOU BY THE ANOINTING. THE GOD POWER FROM ME IS IN YOU AND YOU WILL GROW MORE AND MORE MIGHTY THE MORE THAT YOU DO.
THIS POWER OF GOD THAT WAS GIVEN ME IS NOW EXTENDED TO YOU BY THE LINK OF FAITH AND LOVE.
I LOVE YOU WITH ALL MY HEART, AND I HAVE GREAT EXPECTATIONS OF YOU. FAITH, HOPE, TRUST AND CONFIDENCE ARE QUALITIES I FEEL TOWARD GOD, TOWARD CECILIA, AND TOWARD THE WORK WE ARE NOW DOING TOGETHER!
---
---