WHAT IS THE GURU & WHAT IS THE STUDENT?
A REAL WOMAN SCARES THEM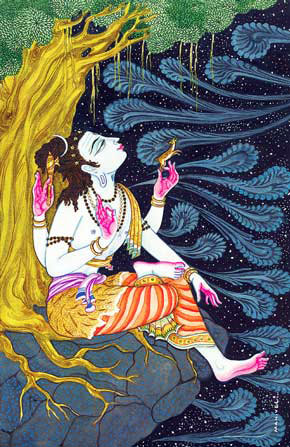 I just stopped in at the Guru Ratings group archive, to see what they're talking about today.
They are beginning to get bogged down in their familiar pattern, which consists of endlessly defining and re-defining their terminology.
Right now, they're in the midst of their zillionth discussion of "What is the ego?" and "What is the Guru?"
Yeesh!
Anyway, it seems to me that part of these guys' problem with Rasa is that they are so addicted to their own mental cogitation (disguising itself as spiritual wisdom), that they are instinctively repelled by anything PHYSICAL.
The word that comes to mind is "bloodless". And what an instructive word! Real women are all about blood and sex and reproduction and feeding and earthiness. And that's frightening to people who equate spirituality with unworldliness.
Of course they're frightened of a woman who has cultivated her physical body, and who has participated in activities related to sexuality, and who is politically active, and who is neither silent nor deferential.
They don't want to be reminded of birth and death (except as "exalted" concepts -- they'd come apart if they had to provide daily care for a dying parent or a disabled spouse), nor of the vibrancy of our physical world and the lessons that it can teach us.
(I'm waiting and praying for an opening so that I can say these things on the Guru Ratings list also. Right now, they're indulging in impenetrable semantic nonsense!)
I really want to mention one of Baba Muktananda's teachers, the mad saint Zipruanna. He lived in a garbage tip, naked as a jaybird in all sorts of weather, and offered his scat to visitors as if it were the finest delicacies. (And it wasn't made of brownies and pudding either!!!)
Hiding ourselves in a hermitage (even the hermitage of our own thoughts) is a spiritual practice with a strictly limited ability to bring us across the ocean of self-delusion. People need a bit of Rasa in their spiritual lives. In both meanings: the teacher herself, and the divine rasa nectar of enjoyment and full (but unattached) immersion in the world around us.
Which reminds me: in my not so humble opinion, the question of "what is a guru?" is a sidetrack also. Everyone and everything can teach us. While it makes good sense to choose a teacher who has progressed further than ourselves along the spiritual path, I'd also like to suggest that there are several ways that we can be helped by another person in getting across that ocean:
(1). Someone who has already crossed the ocean, can reach out and bring us over.

(2). We can get in a boat with someone who is going in the same direction, and arrive together.

(3). Someone on the beach (who hasn't crossed the ocean themselves) can push us into the water and say "get moving!"
So all in all, the question ought not to be "What is the teacher?" but "What is the student?"
Love and hugs!
Kathleen
December 31, 2005
---
---