LETTER IN DEVOTION TO RASA,
MATRIARCHY & THE CHURCH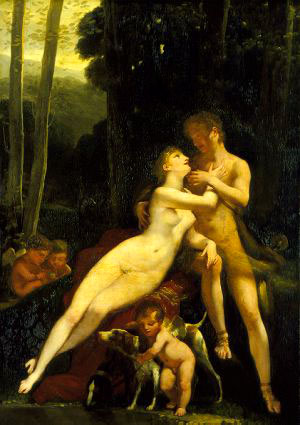 Venus and Adonis
Pierre-Paul Prud'hon

Most Dear Rasa, it's been amazing to watch you take on and turn back those boors at GuruRa(n)tings. What a nasty boys' club that is!
The spirit you draw into people, especially women, is truly a wonder. I suppose you were born to command; there certainly are natral leaders. But I have to thinking that your great compassion was learned and perfected over the course of a remarkable life.
You're doubly inspiring to me, Rasa, first as a person of faith goodwill, and a close secod as a mature person who is most engaged (and rambunctious!) just when society says you are supposed to "retire" and step aside for next next generation.
We don't don't talk about it much in the WTAG Yahoo group, but I suspect that our matriarchs will be mature women. That will make it twice the revolution, won't it? It won't just be women taking over, but gown-up, seasoned ones!
Please accept this modst effort to defray some of the costs of keeping your site going. i think, dearest Mother, that for us, it's not just our sanctuary, but our ciradel.
Thank you for your grace and strength.
Best,
Mike T.
January 20, 2006
---
---