MIKE SETS THE RECORD STRAIGHT
ON MAN SEEKING FEMDOM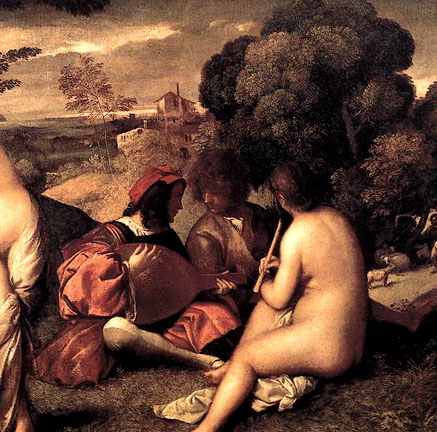 Pastoral Concert (Fête champêtre)
Giorgione
MIKE'S RESPONSE TO LETTER BELOW

Mikael, if you read Rasa's essays at Women Thou Art God, you'll find out that she punctures a big bubble about the whole domination fantasy, namely: IT IS NOTHING WOMEN ENJOY DOING! Pro dommes do it for the money, but only as long as they can stand the tedium and the oppression of male fantasies, which come at them in endless, repetitive waves, demanding what every other man is always demanding, that he be catered to, obeyed, made the most important thing in someone else's life.
You want to "serve" Rasa? She's an incredibly open, warm, funny, and deep-hearted person who is trying to do holy work. Just approach her naturally, with respect. Ask questions about her church (read the articles first so you don't ask stuff she's answered a hundred times!). Get involved in one of her groups. Donate! (She's keeping these web sites up and running out of her own pocket!) Try to LIVE matriarchy by being a mindful, conscientious man who is genuinely interested in supporting and standing by women who are trying to save humankind from itself.
Rasa will tell you she doesn't need slaves. She needs soldiers. So off your knees and onto your feet!
There's work to be done. Kinks can wait!
Hello, I am a true believer of Rasa and had submitted to the religion for about 6 month ago. I am looking for other people who could teach and educate me. I am 32 years old and willing to perform in all kinds of rituals and sexual abuse of my body as a way to through humiliation to find the true path.

I totally understand the female superiority and my body and mind is yours in every way possible.

I live in the northern europe. Please write my mail.


---
---