WHAT JESUS REALLY DIED FOR
THE PARADISE WAS MATRIARCHY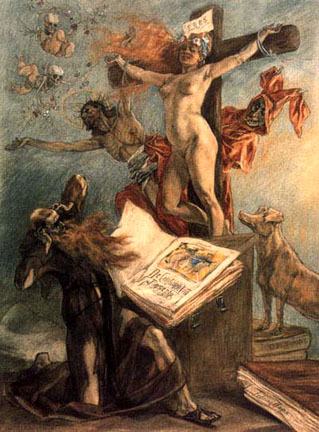 Temptation of Saint Anthony
Félicien Joseph Victor Rops
MIRA MARMALADE ; GOOD LETTER!
Have you ever wondered, why 2000 years after the death of our Redeemer we still live in a gigantic mess?

Well we have been cheated of the fruits of his sacrifice. Jesus died to clean away original sin and he did. His mission was to make everything new again, to reconnect the beginning with the end. To make
an end to the fallen state of humanity. Since 2000 years we have the chance to again live in paradise, but we do not, why?

First we have to know what paradise was. Paradise was Matriarchy! Adam did what Eve told him! But one day she told him to do something wrong. She misused her natural authority under the influence of the devil. The devil knew, that Adam would not do anything without the permission of Eve. Because of this misuse of authority by Eve paradise was lost for a limited time. When Mary appeared, she again took up the rightful position of the head of Her household and Her son Jesus volunteered to sacrifice himself to bridge the gap between heaven and earth.

The time of patriarchy was over with Golgotha. But the devil tricked again, this time a man, Paul to infiltrate the early Christians and change Christ's teachings into the opposite. Jesus wanted to built a church, the Mother church, matriarchal congregations, that gradually change the world into paradise!
That is why 2000 years after our Redeemer died at the cross we are still living in such a mess.

But there is great hope. The doors to paradise, that he opened are still open. Whosoever is courageous enough to start a matriarchal Community gets heavenly support. Maybe Guru Rasa is the chosen one to finally build, what the heaven is waiting for.
May Mary the Queen of Heaven and Her noble son Jesus bless you all
Mira Marmalade
February 24, 2006
---
---