YOUNG MAN ESCAPES FROM
FORCES OF DARKNESS
RESPONSE TO RASA'S 'WHO IS THE DEVIL?'
FROM 'AUR', A SOUL ON YAHOO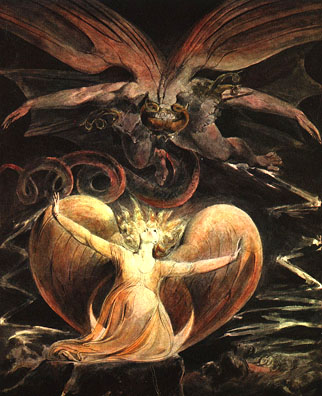 The Great Red Dragon and the
Woman Clothed with the Sun
William Blake
MUCH LOVE TO YOU DEAR SON, AND I AM SO GLAD YOU CAME OUT FROM THE DARK FORCES OF EVIL AND BACK TO MOTHERGOD'S LIGHT

GURURASA
Until about six months ago I would have been aligned with this reasoning, and/or the tenets of karma, but through personal experience now have to reconsider and reformulate another conception of this whole "good-n-evil" thing.
For what its worth, here's my story.
My own exploration of the connection between sexual energy and spirituality [with a personal penchant toward, and 'hope' to find fetishism as a valid path] I did internet searches for topics relating to "Goddess worship, sex magick, spirituality" and various topics. Inevitably I ran into sources on Mystery Schools, secret societies, and the like. Fascinating stuff; interpretation of Masonic symbols as a vagina and so forth. "Wow, you mean my ex father-in-law (very cool guy, by the way) 33rd-degree-Mason, pillar-of-the-community, and his Eastern Star wife (very uncool, domineering, judgmental, bitter) are sexual-energy practicing Goddess worshippers?" No way! The Masons in Capital-of-the-Confederacy Richmond Virginia are NOT the Masons described in these readings. So, the search continued. Lots of genealogies of secret societies (Rudolph Steiner, Scottish Rites Temples, on and on) and endless debates about 'legitimacy' etc, etc, etc, blah, blah, blah: But no luck making progress in my search.
Inevitably the search also lead to Aliester Crowley. Of course I'd heard of the "devil worshipper" before, but only through religious fundamentalist doctrine I'd rejected long ago. So my own reading of him (at the level of the internet and not Crowley's actual books) I formed the opinion he seemed to be making a genuine effort, and had been misrepresented in popular press and discredited by doctrines that were threatened. At the same time, I was trying parallel practices including some tantra ejaculation control exercises, mindful meditation, occasional yoga, and my own compilation of everything(!) that included submission to a young, beautiful, highly intelligent, spiritual Goddess/Mistress and intense ritual masturbation and orgasm denial. Oh Yeah(!) Inductions, invocations, intense Lust and denial for weeks on end: what a powerful path!
My energy was positive and my whole perceptual world began a massive expansion. By blocking the narrow slice of perception altered by daily orgasm, what an amazing perceptual panorama lay beyond the borders of 'maleness'! Unfortunately, such seems to be the nature of internet relationships, that they just don't hold (sigh). So, I began a fresh search to continue along the path that offered much promise.
Scanning "religion" chat rooms, speaking with many, and reviewing recommended web sites for all manners of magic etc, etc, including a reformulation of Satanism as the "development of the self as opposed to 'devil-worship'". It seemed palpable in all I had discovered, so I opened up to the idea and set aside prejudices and watched and read, until I met another ethereal woman. Again, beautiful, intelligent, spiritual, seductive. "Let's rock and roll!" I thought; so allowed for some incantations, and meditated on allowing darker spirits to inhabit and use lust to continue transforming and dissipating ego.
Well, it didn't go so well. Nothing like Hollywood exorcist movies happened...nothing dramatic, but I became secretive, slowly succumbed to depression, ejaculation control disappeared and I found myself exhausted from compulsive masturbating, tolerance for the kids became short, distanced from my partner, isolated. Eventually I'd become so disgusted: sick and tired of being sick and tired, that Iconfided in, (and confessed to) my psychically gifted partner as to what I had been up to.
She succinctly summarized it, "You've got to be careful what you call up [from the spirit world]." I asked her for guidance and what I should do. She suggested a cleansing; a ritual. I bought some fresh flowers, assembled various objects from my long-time collection of things found on beaches, in forests, etc, and constructed a make-shift altar/shine. i lit some candles and quietly meditated. Nothing dramatic (that my simple mind could perceive) happened during meditation, but i'd felt like just by doing the preparations. Afterwards i debriefed with my partner who told me, "They saw what you were doing, and getting ready to do, and flew out of here."
I hope this is helpful,
Aur