POWER OVER DEMONS
THEY HAVE MUCH LESS THAN PEOPLE IMAGINE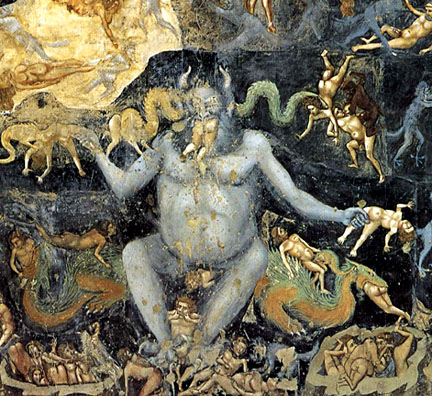 The Last Judgment (Detail)
Giotto

LETTER FROM BELIEVER ADAM SMITH
& RESPONSE FROM RASA
Dear Spiritual Guru Rasa,

Thanks, once again, for giving your precious time to analyze my experiences. Your comments are, as usual, very specific and 'to the point'. This time you asked me several questions about my religious practices.
I pray in silence - a lonely life is very crowded when you have experienced the presence and solitude of God.
I am from an Orthodox Christian background (Greek/Russian Orthodoxy)


RASA: BOTH MY MOM AND GRANDMA ARE BURIED IN A RUSSIAN ORTHODOX CEMETERY ATTACHED TO A MONASTERY
I make an effort to go to churches but - and this will shock you maybe - I have had several experiences of evil in churches which has made me more selective and careful. This has NOTHING to do with male priests or congregations or sermons or anything connected with the Mystical Body of Christ. It has to do with how the devil/demons manifest themselves to me when I least expect, but this is another story.


RASA: I THINK DEMON MANAGEMENT LESSONS ARE IN ORDER HERE. YOU MAY NEED RASA VIA BOB LARSON!
I once kissed the Holy belt of the Theotokos on Mount Athos, Greece , one of the most spiritual and sacred places that I ever visited.


RASA: HOW ENCHANTING!
Dear Spiritual Mother Rasa please allow me to make something very clear to you since perhaps my message has not been as direct as I would have liked. I have already explained that my experiences have made me more receptive to the machinations of evil.


RASA: IT IS TRUE THAT THEY WANT TO COMBAT AND DESTROY THE HOLIEST SOULS THE MOST - BUT THE HOLIEST SOULS ALSO HAVE THE MOST POWER AGAINST THEM. YOU MUST BE MADE AWARE OF THIS.


Dark forces have, all my life - look back at my experiences- tried to destroy me and they are still continuing 24 hours a day when I am awake and when I am asleep.


RASA: YOU ARE GIVING THEM TOO MUCH POWER. DO NOT PERCEIVE OR IMAGINE THEY HAVE THAT MUCH POWER. YOU MUST BELIEVE AND ACCEPT THAT GOD AND YOUR GUARDIAN ANGELS, JESUS AND MARY, WOULD NOT PERMIT THEM TO ASSAULT YOU 24/7. THAT WOULD BE INHUMAN. GOD WOULD NEVER ALLOW SUCH A THING. THEY MIGHT WANT TO, BUT THEY CAN'T. JESUS AND MARY WERE SEVERELY ASSAULTED BY THEM BUT NOT THAT OFTEN. SAINTS ARE ASSAULTED, BUT NOT 24/7. I HAVE A STRONG FEELING YOU BELIEVE THIS AND THIS BELIEF MAKES YOU MORE SUSCEPTIBLE. YOU MUST BELIEVE OTHERWISE!
I have already told you that Satan has all my life prevented me from finding true love...


RASA: THIS NEEDS MORE EXPLAINING


...that would save me and, perhaps, others and he is still continuing. When you asked me, out of true compassion and spiritual love, to take you into my heart I prayed deeply and in silence to God for many days for answers to your request. This is HIS response and my reply to you: He tells me that you ARE ALREADY IN MY HEART and that my dream of you behind a screen is genuine BUT not entirely so. The screen was an illusion created by demons/Satan.


RASA: I WILL THINK AND PRAY ON THIS BUT MY INITIAL REACTION IS YOU MIGHT BE MISINTERPRETING WHAT GOD IS SAYING. I WILL TELL YOU WHAT. WHEN WE CHANNEL IT IS MORE SUSCEPTIBLE TO MISTAKES THAN OUR DREAMS ARE. OUR DREAM STATE IS WHERE WE HAVE OUR UNCONSCIOUS MIND FULLY OPEN. OUR WAKING STATE, WHEN LISTENING TO GOD, MAY NOT BE ENTIRELY OPEN. IN MY OPINION, YOUR DREAM IS MORE ACCURATE THAN WHAT YOU HEARD IN YOUR WAKING STATE AND IT IS EXACTLY WHAT I TOLD YOU IT IS. HOWEVER, I WILL WORK ON THIS A BIT MORE TO SEE IF THERE IS ANYTHING HIDDEN GOING ON.

I was having an illusion within a dream!


RASA: LIKE I SAID, THE SCREEN HAD MEANING. YOU COULD NOT HEAR ME. THE SCREEN WAS A LIMITATION, A BARRIER, BECAUSE YOU DID NOT DO THE FORMAL INVITATION OF ME INTO YOUR HEART. DOING THIS IS LIKE A SACRAMENT. YOU COULD LOVE YOUR CHILD IN YOUR HEART, BUT YOU STILL TAKE IT TO BE BAPTISED AND GET HOLY COMMUNION AND CONFIRMATION. IT IS LIKE THAT. YOU DO CERTAIN THINGS IN A FORMAL WAY. THIS LINK SHOULD BE MADE FORMALLY, NOT GENERALLY. I KNOW WHEREOF I SPEAK. I FEEL YOU ARE AFRAID TO SOMEHOW BE UNFAITHFUL TO JESUS AND MARY. I UNDERSTAND.


Satan tries to create barriers to everything I do and dream of.


RASA: HE CANNOT DO THIS TO YOUR DREAMS. I TRULY SEE THE PROBLEM, AND I AM QUITE SURE IT IS JUST WHAT I SAID. YOU ARE GIVING HIM TOO MUCH POWER IN YOUR OWN MIND. NO DOUBT HE IS PURE EVIL AND WOULD DESTROY EVERYONE IF HE COULD, BUT HE CAN ONLY DO SO MUCH. STOP PUTTING YOUR FAITH IN HIS ABILITY, HIS STRENGTH! HIS STRENGTH IS ABSOLUTELY LIMITED!


Satan wants humanity to stop dreaming!


RASA: SATAN WANTS ALL SORTS OF THINGS, BUT HE CANNOT AND WILL NOT HAVE WHAT HE WANTS!
God tells me also that Christ and His Holy Mother are in my heart and that they are SUPREME. Whatever or whomever tries to displace them should be removed from my soul in a heartbeat!


RASA: DO YOU THINK I AM TRYING TO TAKE THEIR PLACE? NO WAY.....WHO ARE YOU REFERRING TO? I ALREADY EXPLAINED TO YOU THAT I AM IN NO WAY IN CONFLICT WITH JESUS OR MARY, BUT COMPLETELY AT ONE WITH THEM.
I hope that these remarks answer your questions, divine Guru Rasa. If you can accept them I will continue to be your devotee in the battle against evil.


RASA: CERTAINLY YOU ARE PART OF THE ARMY OF GOD! I NEVER REFUSE A DEVOTEE. THEY TURN THEIR BACKS ON ME OR THEY FAIL TO LIVE UP TO THE LOVE I GIVE, BUT I NEVER FAIL THEM. THE GOD POWER IN ME GIVES WITHOUT MY EVEN KNOWING WHAT IS HAPPENING, ONCE THEY OPEN THEIR HEART TO ME. GOD WITHIN ME WILL NEVER FAIL THEM NO MATTER WHAT I DO IN THE FLESH.


If you do not I shall still love you and will understand.


RASA: I AM GLAD YOU OPENED YOUR HEART TO ME IN THIS LETTER - BY WAY OF EXPLAINING A FEW THINGS. AND I CAN SEE TO SOME DEGREE, WHAT HAS TO BE DONE.

WHAT HAS TO BE DONE IS A CHANGE OF MIND. DO NOT BE AFRAID OF DEMONS! YOU ARE MUCH MORE POWERFUL THAN THEM AND THEY ARE INSIGNIFICANT NEXT TO YOU! BY ONE WORD, ONE THOUGHT YOU CAN DESTROY A MILLION OF THEM! SEND THEM TO THE PIT! TAKE HOLY WATER AND SPRINKLE THROUGHOUT YOUR WHOLE HOUSE AGAINST THEM.............I USED TO DO THAT ALL THE TIME. NOW I HAVE SO MUCH FAITH AND CONFIDENCE JUST BY THAT ALONE I THROW THEM TO THE PIT, WITHOUT EVEN SPEAKING OR DOING ANYTHING. BUT IT TOOK ME YEARS TO DEVELOP THIS. ARE YOU DOING EXORCISMS? I USED TO DO THEM VERBALLY EVERY DAY.
YOU HAVE ALL MY LOVE,

SPIRITUAL MOTHER, RASA
AMENDMENT
DECEMBER 21, 2005
I did pray for you last night and I had this feeling, that it is a phobia or anxiety rather than the real thing. This will be hard for you to see, as it could be in your unconscious. If you can get over this fear, then you will be free of what is happening to you regarding 'demonic.'
The best way to be rid of such things is to make a decision and by the act of the will, tell God what your decision is. In this case, to give up the fear of demons, that you recognize they have no power over you and you relinquish the fear. Repeat this daily until you feel the prayer has done its work.
I can feel your interior and last night I saw through your eyes. You see their presence everywhere - wherever your mind goes, you see them there. Try and recall when this started and there would have to be a psychological dimension to this. You might have been afraid of something else, and then decided the safest thing to do was blame demons, and have been blaming them ever since. They must be having a field day with you. They do almost nothing, and you have all the sufferings as if they did. Let go of this.
About inviting me into your heart formally, I sense that this is also fear. I am there, but with the screen. It is a partial, not a complete installation. There is a reservation, and so, I cannot transmit my full anointing into you.
When I started with Muktananda, before I learned the installation, he appeared to me in dreams on a pedestal. But after I installed him he became an intimate, a 'lover', and transmitted his power. There is a difference I assure you.
I also know how you will take this - with disbelief. You are so convinced about the demons, it is like hypnosis. But the fact that I have brought this out for you I think is the beginning of the end of this fear. It will dissipate, it will break apart and you will be free.
DISCUSSIONS ON