HOW TO MAKE HOLY WATER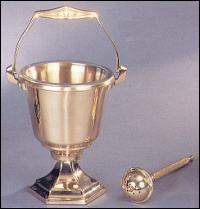 WHAT YOU NEED
• Plain Water (at least a quart)
• Any kind of salt
• A bottle with a lid
• One or more small containers for water (if possible the small containters could be of the type that "sprinkle")
Into a quart of water add 1/3 cup of salt. Shake the bottle well until the salt dissolves into the water.
"Oh water, I bless you in the name of God, the Mother, and in the name of Jesus Christ and Holy Mary, and all the Saints, and in the name of the Holy Spirit. Amen."
Take the water, and put it into smaller recepticles. Put the recepticles in different parts of your house to get ready to sprinkle it whenever the need arises.

---
---