PASTOR'S LETTER
MAY 2, 2005
RECENT DREAM STUDIES:
REACTION & ANALYSIS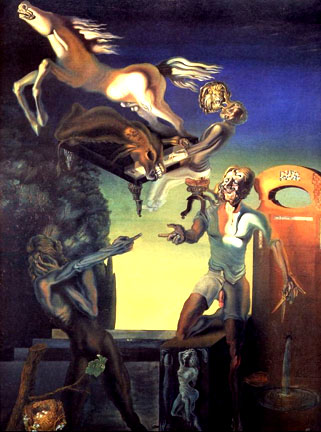 Salvador Dali
I HAVE STUDIED DREAMS SINCE THE LATE SIXTIES AND HAVE LEARNED MUCH. FIRST, THOUGH, I DO ADMIT THERE IS NO SUCH THING AS AN ABSOLUTE EXPERT. TO BE AN EXPERT IS A RELATIVE TERM, BUT NO ONE CAN ABSOLUTELY DECIDE FOR YOU WHAT THE DREAM MEANS, BUT ONLY GIVE YOU THE BENEFIT OF WHAT THEY KNOW, AND YOU GO FROM THERE. THERE IS ONLY ONE WAY I MIGHT BE ABLE TO TELL SOMEONE WHAT THEIR DREAMS MEANS, ALMOST FOR SURE. THAT WOULD BE IF WE SAT DOWN TOGETHER AND WORKED OUT A NUMBER OF THINGS. ONE, WHAT IS HAPPENING IN YOUR LIFE RECENTLY AND WHAT ARE THE DYNAMICS OF YOUR CURRENT LIFE SITUATIONS. USUALLY DREAMS REFER TO THIS. SECOND, WHAT DOES EACH SYMBOL MEAN TO YOU NOT IN GENERAL, BUT SPECIFICALLY, RIGHT NOW, AND WHAT KIND OF A FEELING AND THOUGHT DO THESE THINGS EVOKE? SYMBOLS CHANGE, EVEN IN YOUR INDIVIDUAL VOCABULARY. I WOULD THEN USE MY GIFTS OF DISCERNMENT AND CHANNELING GOD, AS WELL AS TRYING TO SUMMON YOUR UNCONSCIOUS, UNTIL WE BOTH KNOW, FOR SURE, WHAT THE DREAM MEANS. THIS WOULD TAKE HOURS. ALL MY BIG DREAMS TAKE HOURS TO UNDERSTAND AND REQUIRE MULTIPLE MYSTICAL GIFTS...
I HAVE BEEN STUDYING YAHOO DREAM GROUPS AND I THINK IT IS WORTH EXPLAINING A TYPE OF DREAM THAT PEOPLE OCCASIONALLY HAVE, WHICH I CALL A 'BHAVA' DREAM. A BHAVA IS WHEN YOU ARE IN THE SKIN OF ANOTHER, AND GOD OR YOUR UNCONSCIOUS WANTS YOU TO KNOW HOW THAT PERSON THINKS OR FEELS... ANOTHER POINT THAT WAS BROUGHT TO ME RECENTLY IS WHEN YOU HAVE A DREAM IT MIGHT NOT BE IN REAL TIME. RECENTLY I HAD A DREAM WHERE I WAS PRESENT AT THE SUICIDE OF A MAN, WHICH WAS HORRENDOUS. I ASSUMED THAT I WAS THERE TO MINISTER, AND BRING GRACE TO A SOUL THAT NEEDED IT, SO HE WOULD NOT DIE WITHOUT GRACE. I FELT THE SURGE OF GOD'S ENERGY WITHIN ME FOR THAT PURPOSE. I TOLD MY FRIEND SOMEONE HAD JUST COMMITTED SUICIDE AND I HAD MINISTERED TO HIM AND WAS GOING TO CONTINUE DOING SO. THAT NIGHT I SAID MASSES FOR HIM. BECAUSE OF THE MASSES, HE APPEARED TO ME AND HE WAS A MAN LIVING, WHO HAD TRIED TO COMMIT SUICIDE AND FAILED, SOME YEARS AGO. I KNEW ABOUT HIS CASE. I ALSO KNEW I WAS HELPING THIS MAN AS HE DID APPEAR IN EARLIER DREAMS. (HE HAPPENS TO BE A FAMOUS PERSON) WHEN I DREAMED OF THE SUICIDE, I WAS ACTUALLY DREAMING OF SOMETHING THAT WOULD HAVE HAPPENED, BUT DID NOT HAPPEN, BECAUSE GOD PREVENTED IT. I WAS THERE - BUT IT WAS NOT REAL TIME, IT WAS YEARS AGO. SO HERE, I AM NO EXPERT EVEN FOR MYSELF. SOMETIMES YOU HAVE TO DREAM A FEW DREAMS TO UNDERSTAND THE CASE, AND PUT IT ALL TOGETHER. PUTTING A FEW DREAMS TOGETHER HERE IS THE STORY: I MET THIS MAN MANY YEARS AGO (LIKE 1968) AND LATER HE BECAME A BIG STAR, BUT HE WAS TORMENTED. HE WAS FAMOUS FOR HIS SUICIDE ATTEMPT. BECAUSE I KNEW HIM, GOD SAW IN ME A LINK OR A 'STATION ON EARTH' BY WHICH TO REACH THIS PERSON. HE WAS TORMENTED AND PERHAPS STILL IS. MY JOB IS TO MINISTER TO HIM AND HELP HIM, THROUGH MY PRAYERS AND SUFFERINGS. THIS IS THE KIND OF WORK I DO. I HELP SOULS IN PURGATORY, AS WELL AS SOULS ON EARTH WHO MIGHT GO TO HELL...
GOD SHOWS ME THE INTERIOR OF PERSONS. SOME OF THEM ARE HORRIFIC TO LOOK AT. I KNOW THEY WILL BE LOST. SO I HELP BY DOING PROXY BAPTISM. AFTER THE BAPTISM, GOD SHOWS ME IF IT TOOK OR NOT IN A DREAM. EXAMPLE: IN THE SPACE OF A MONTH I SAW THREE MEN, AND EACH ONE WAS HEADING FOR HELL, IF THEY DIED RIGHT THEN. I FIGURED IF GOD SHOWED ME THIS, IT WAS FOR A REASON. I DID PROXY BAPTISMS FOR ALL THREE. THAT NIGHT I HAVE A DREAM. TWO OF THE MEN LEFT THE BUILDING WE WERE IN THROUGH A MAZE OF ROOMS AND WENT OUT 'INTO THE LIGHT.' BUT ONE CHOSE NOT TO GO OUT AND INSTEAD WENT DOWN A STAIRCASE TO THE BASEMENT. SIMPLE TO UNDERSTAND, THAT ONE MAN CHOSE NOT TO RECEIVE THE GRACE AND STILL IS HEADING FOR HELL, BUT TWO WERE SAVED. MY DREAMS ARE A PIVOTAL PART OF MY MINISTRY. GOD SHOWS ME MY INTERIOR, AND THAT OF OTHERS, SO THAT I KNOW WHERE WE ARE AT SPIRITUALLY. IT IS CALLED 'THE GIFT OF READING OF HEARTS.' IN ORDER TO KNOW WHO NEEDS HELP I HAVE TO KNOW WHAT STATE THEY ARE IN, DON'T I? GOD SHOWS ME IN DREAMS. THEN, I MINISTER, AND GOD SHOWS ME THE RESULTS, THROUGH DREAMS. I HAVE OTHER GIFTS, LIKE CHANNELING, BUT WILL ONLY SPEAK OF DREAMS HERE. WHEN I PRAY, GOD SHOWS ME THE RESULTS OF MY PRAYERS AND DISCIPLINES. THAT WAY I KNOW IF I HAVE TO IMPROVE, OR IF I HAVE SUCCEEDED IN GETTING CLOSER TO GOD. DREAMS TEACH US WHAT TO DO AND NOT TO DO. THEY ALSO TEACH ME ABOUT OTHERS. WHO IS MY FRIEND? WHO IS MY ENEMY? WHO LOVES, WHO HATES? WHAT KIND OF DEMONS DO PEOPLE HAVE? I RECENTLY SAW IN TWO DREAMS, IN A ROW, THE DEMONS ONE LADY FRIEND OF MINE HAD. THEY WERE INSECURITY AND PARANOIA. I KNEW THEN HOW TO EXORCISE THE DEMONS, AND I DID. WHEN THE NEXT DAY I SPOKE TO HER SHE SOUNDED DIFFERENT AND TOLD ME SHE FELT LIGHT, FREE AND STRONGER, AND HAD HAD A FULL NIGHT'S PEACEFUL SLEEP AND LUCID DREAMS FOR THE FIRST TIME IN YEARS. I TOLD HER ABOUT THE DEMONS AND SHE SAID SHE KNEW SHE HAD NEEDED EXORCISM, BECAUSE HER AUNT HAD PUT A CURSE ON HER AS A CHILD. MY DREAMS SHOWED ME, WITHOUT HER EVER TELLING ME, EXACTLY WHAT WAS WRONG SO THAT I COULD DEAL WITH IT...ABOUT THE DREAM OF THE MEDIEVAL LADY RUNNING THROUGH THE WOODS. COULD THIS BE YOUR ONENESS WITH NATURE AND REALITY, WHICH IS TO ME, A MANIFESTATION OF GOD? WHEN I SAW GOD 'FACE TO FACE' IN 1982, I SAW GOD AS 'SUPERNATURAL' NATURE, A MYSTICAL COLORFUL WOODS, AND AN INFINITE OCEAN OF BLISS, GOLDEN, WITH A HORIZEN THAT NEVER STOPPED, BUT KEPT UNFOLDING AS I LOOKED. I KNEW I AND THAT OCEAN OF BLISS WERE ONE, AND THAT IT WAS INFINITE LOVE. THIS DREAM REMINDS OF THAT. TO BE NAKED BEFORE GOD, TO RUN FROM THE FLESH WHICH SEES EVERYTHING IN TERMS OF EARTHLY DESIRE (THE PARTY, THE FLIRTATIOUS MAN) AND SIMPLY TO MERGE WITH NATURE, THAT IS A LIBERATING CONCEPT. YOU DREAMED IT AS A CHILD. AND WE ARE ALL STILL CHILDREN, AND CANNOT BE HAPPY UNLESS THE CHILD WITHIN IS ALIVE OR ACTIVE. YET WE HAVE TO STIFLE THE CHILD WITHIN BECAUSE WE HAVE TO HAVE SO MUCH RESPONSIBILITY AND ALSO, YOU CANNOT TRUST THOSE AROUND YOU IF THEY ARE LACKING IN LOVE. EVEN YOUR OWN PARENTS CAN HURT YOU DESPERATELY, SO YOU CAN'T AFFORD TO BE A LITTLE CHILD IN THIS WORLD. YET TO BE HAPPY, WE MUST FEEL SECURE AND TOTALLY TRUSTING AND CHILDLIKE - AND THAT IS A DIFFICULT JOB IN THIS WORLD, WHICH DOES NOT HAVE TRUE LOVE...
I WILL LEAVE YOU WITH THAT AND THANK YOU FOR YOUR
RESPONSES AND GOOD LUCK WITH YOUR DREAM WORK.
GuruRasa Von Werder
May 2, 2005