NOVEMBER 19, 2005
ARE FEMALES REALLY SUPERIOR AND IS MATRIARCHY THE ANSWER?
A SEEKER ON YAHOO ASKS RASA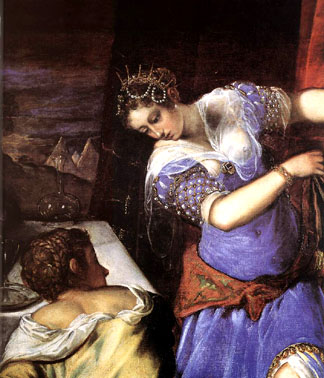 Judith & Holofernes
Tintoretto
Hi, I am new to the group but familiar with rasa's thought through her posts on my group that is concerned with gnosticism. Being that my time is limited today, I wanted to address something(s) that I think are pertinent to this type of thought.

First, I think it is important to remember that in spiritual reality or consciousness and in the heaven realms of the holy light, gender is a non issue.

RASA: THIS IS THE ONLY PART OF YOUR LETTER I CAN EASILY RESPOND TO, AS FOR THE REST OF IT, YOUR FRAMES OF REFERENCE ARE NOT FAMILIAR TO ME. IN THE ARTICLES WE ARE POSTING, THERE ARE NO CLAIMS CONCERNING SUPERIOR SPIRITUALITY OR HOLINESS. (THESE CAN BE IMPLIED, HOWEVER, BY THE MORE RIGHTEOUS BEHAVIOR OF WOMEN IN THEIR COMMITTING LESS CRIMES AND TAKING RESPONSIBILITY FOR PROTECTING AND NURTURING CHILDREN AND ANIMALS) THE CLAIMS FOR SUPERIORITY ARE IN THE SCIENTIFIC DISCOVERIES ABOUT FEMALE IN THEIR GENETICS, BIOLOGY AND PHYSICAL/MENTAL MAKEUP. NOW YOU HAVE STATISTICS THAT ABSOLUTELY PROVE THE FALLACY OF MALE SUPERIORITY AND INDICATE EVERYTHING ON THE SIDE OF FEMALE SUPERIORITY. HOW ARE YOU OR ANYONE GOING TO ARGUE AGAINST THIS?

The division into male and female is a manifestation of the conflict inherent in material physical existence. Gnostics believe that this separation originally occurred as a method to control and abuse humanity.

RASA: BY WHOM? WHO SEPARATED MALE AND FEMALE IN ORDER TO ABUSE THEM? GOD? CERTAINLY GOD IS NO ABUSER!

The sexes were divided according to this viewpoint after the Luminous Christos-Sophia was seen radiant within the primal human.

RASA: I HEARD THIS BEFORE FROM A LADY RUNNING A CHRIST/SOPHIA/MYSTICAL GROUP . SHE HAD BOOKS WHICH I NEVER HEARD OF, AND SAID THAT WHEN MALES SAW GOD IN THE FEMALE, THEY WANTED TO DESTROY THEM AND TAKE AWAY THEIR POWER. (THIS IS VERY APPROXIMATE....THE LADY RAMBLED ON FOR HOURS VIA PHONE WITH ME.....ALTHOUGH SHE HAD SOMETHING GOOD WITH GOD, I DISMISSED HER AS AN AIRHEAD INCAPABLE OF GETTING ANYTHING DONE ON EARTH AND DROPPED THE RELATIONSHIP.)

.............MY OWN RESEARCH - BY SCIENCE, THE PRIMAL HUMAN WAS FEMALE. ALL GENETICS TRACE BACK TO HER. TWO INDEPENDENT STUDIES THAT WERE RELEASED IN LATE 1980'S. ONE THEY CALLED THE FIRST HUMAN 'LUCY.' SO THERE IS YOUR EVE. ADAM IS HER SON. I GUESS YOU COULD SAY LIKE ISIS AND HORUS.

WHEN IT COMES TO SPIRITUALITY, NO ONE IS TRYING TO BEAT MEN UP ON THIS. THEY ARE CAPABLE OF BEING HOLY SAINTS JUT LIKE FEMALE. THE SOUL I DON'T THINK CARRIES 'SUPERIOR' OR 'INFERIOR', ALTHOUGH YOU COULD ARGUE WHAT THE SOUL IS. THE SPIRIT, THE GOD WITHIN, WITHOUT A DOUBT IS EQUAL IN ALL CREATURES, EVEN ANIMALS. GOD LOVES ALL EQUALLY AND AS MUCH.
Women are no more spiritually developed then men, and in spirit all are one soul.

Secondly, I think that the word 'Patriarchy' is thrown around far too much. Its improper usage in this context is misleading. The world has had ages and cultures that have been Matriarchal and Patriarchal. some of both have been corrupt, some of both have been beneficial and good.

RASA: SHOW ME THE PROOF THAT MATRIARCHIES HAVE BEEN VIOLENT AND ABUSIVE LIKE PATRIARCHIES. ALL EVIDENCE POINTS TO THEIR BEING PEACEFUL.

What humanity needs to do is to stop falling into the traps of the archons that divide us a in our common life of the spiritual harvest whether these be of race, sex, caste, or otherwise.

RASA: I FIND IT AMUSING THAT NOW THAT WOMEN ARE GAINING GROUND MALES WANT TO LEVEL THE PLAYING FIELD. WHEN MALES HAD ALL THE ADVANTAGE, THEY NEVER THOUGHT OF DOING THIS.
This corrupt rulership is not representative of most males nor is it representative of Patriarchy as a positive and healthy idea. Neither it nor Matriarchy is the answer though.
The only answer is a balanced society , a society of the CHILD, which is both and neither, being the origin and the higher and perfected product of both. The Child is the reentrance into the Primordial Non-Dual Harmonia

we cant take mental shortcuts. this is a complex situation on all levels and we have to take our time in approaching it if a viable solution is to be found.

RASA: MY SOLUTION IS MATRIARCHY. ALL THE FUTURISTS SAY THE WORLD BELONGS TO WOMEN.
DISCUSSIONS ON