NEGOTIATIONS BETWEEN HEAVEN & HELL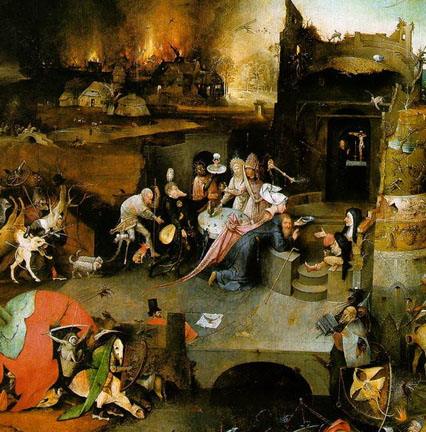 The Temptation of Saint Anthony
Hieronymous Bosch


VATICAN SPOKESMAN CONFIRMS...
PEACE TALKS UNDER WAY BETWEEN ANGELS & DEMONS!

War between good and evil has left Hell virtually bankrupt!
By MICHAEL CHIRON
Vatican City
WEEKLY WORLD NEWS
ANGELS and demons have quietly entered into peace talks -- and if all goes well, Heaven and Hell could sign a treaty normalizing relations within weeks!
That's the mindbending assertion of a leading theologian who has sources privy to the highstakes negotiations.
"Just a decade ago, a peace pact between Heaven and Hell would have been unthinkable," says Mario Ongini of Vatican City.
"But in this era, we've seen many implacable foes, like Great Britain and the IRA, sit down at the bargaining table to settle their differences.
"Of course, this won't be a cakewalk. The two camps remain miles apart on many issues -- and there's a lot of bad blood and distrust." It was reportedly Satan who first extended the olive branch, sending God the message, "Isn't it time to let bygones be bygones?"
"Satan's back was against the wall," explains Ongini. "Hell is virtually bankrupt, due largely to corruption. The Evil One can't even afford to buy souls anymore. He simply doesn't have the money to fight Heaven."
Ongini claims preliminary talks got underway six weeks ago between Earthly representatives of the two sides -- with negotiators from the Catholic Church sitting opposite agents of the International Church of Lucifer.
"These meetings paved the way for bargaining sessions between heavenly seraphim and second-tier demons, in which key points of the peace plan have been hammered out," the theologian reveals.
"Vatican sources tell me next week is the first 'sit-down' between the Archangel Michael and Satan's chief lieutenant Beelzebub.
"It's hard to picture them in the same room -- these guys personally detest each other."
Known as the Lord of the Flies, Beelzebub is one of Hell's most vicious demons -- infamous for violent possessions. But "only a hardliner" would have the credibility to forge peace, the expert observes.
The talks are being held on neutral ground, the Geneva headquarters of an atheist organization.
"The first session got off to a rocky start when an angel complained that a demon smelled 'like sulfur," Ongini says. "A scuffle broke out."
According to Christian lore, the war in Heaven erupted eons ago when God ordered His angels to serve His latest creation -- man. Jealous, a band of angels lead by Lucifer rebelled. God triumphed and Satan's horde was cast out.
"Since then a cold war has raged," Ongini explains.
Both sides are expected to make huge concessions. Although details must still be worked out, here are some basic elements of the accord:
•Demons will swear allegiance to God. In return, they get back the ranks and angelic names they held before their fall from grace.

•Hell will be declared an "autonomous principality" of Heaven. "It won't have full sovereignty, but they'll be able to make their own rules there," explains Ongini.

•Demons will forgo possession of humans, although they'll still be allowed to chat with crazy people.

•No more purchasing of souls. But people who sin will still go to Hell.

•Better lighting in Hell. "The grim lighting has been described as 'darkness visible,' " observes Ongini. "They'll also get indoor plumbing."

•Demons will be allowed to date human females. Explains Ongini: "They've always lusted after our women -- God's ban on such contact was another bone of contention."
Catholic officials refuse to confirm the report, but a Vatican insider verified that the negotiations are at a "delicate stage" now.
"There's been a lot of haggling," reveals the insider. "Satan's team keeps trying to sneak loopholes into the document while our side tries to catch them.
"This is truly a case where the Devil is in the details."

DISCUSSIONS ON