WILLIAM BOND & RASA
ON THE OCCULT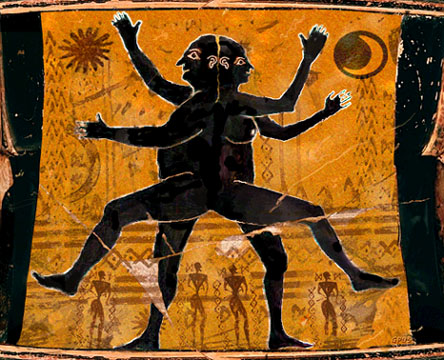 Dear Rasa
I have spent years studying the Occult, and have come across the concept of 'thought forms'. The idea is that you create an imaginary animal or person, and then you work on it. So if you create a imaginary animal you imagine it goes everywhere with you. Then after awhile this imaginary animal begins to take on a life of its own. The thought form then can be used by the creator in various different ways. These thought forms can then be used to help or harm others. So perhaps someone who doesn't think of themselves as very clever can say create a thought form of a very wise man, and when it is strong enough allow the thought form to 'possess' him. Or he can create a frightening through form and use it to frighten other people or even possess them. The trouble is sometimes the thought form can get out of control and exist independently from the person who created it.
RASA: THIS IS WHY RELIGION TEACHES US NOT TO MESS WITH THE OCCULT
Or can continue after the original creator has died and continue its role of possessing people.
RASA: EXACTLY. THOUGHT FORMS DO EXIST. BUT MY CONTENTION IS THEY ARE SEPARATE FROM DEMONS.
AN AMUSING MEMORY. REMEMBER THE CABBAGE PATCH DOLLS? READ AN ARTICLE WHERE ONE OF THEM TURNED AGAINST THE OWNER.
(Authors can do the same thing, they create a heroes and villains and write many books of these imaginary people, and find after awhile they too seem to take on a life or their own.)
RASA: THAT SAYS IT FOR GETTING RID OF THE VILLAINS BEFORE THE END OF THE STORY, DOES IT NOT?........

HERE WE COME ALSO TO THE PRINCIPLE OF VISUALIZATION. WHAT YOU VISUALIZE IS MORE LIKELY TO HAPPEN, BECAUSE BY VISUALIZING IT, INSPIRES YOUR FAITH. USE VISUALIZATION FOR YOUR OWN GOOD AND THAT OF OTHERS!
Now what i believe is that what we think as demons were once thought forms created by people, playing about with mind power. The trouble is that a demon or other thought forms can be created by a person who understands the power of the mind. But if then the demon come into contact with someone who has no understanding of mind power. Then the demon can seem to be very powerful and they will have no defenses against it.
RASA: IF THEY ARE THOUGHT FORMS, WHAT IS YOUR METHOD OF GETTING RID OF THEM?
Certainly people in ancient religions had discovered the power of the mind. And like you say, some did use it to help and heal other people. But others exploited the power of the mind to gain power over other people.
RASA: CAN YOU NOT ACCEPT THAT THERE ARE MORE THAN ONE KINDS OF POWER? THAT THERE CAN BE MIND POWER AND ALSO INDEPENDENT OF THAT, INDIVIDUAL DEMONIC SPIRITS?
So shamans, witch doctors, medical doctors, psychiatrists, gurus, priests. All have the power to help others or to use their power to gain wealth and power. But unfortunately even some of the helpful shamans, gurus, priests and the like, enjoy their power too much and don't teach the people how to help themselves.
RASA: I AGREE WITH YOU THERE, BUT WHAT IS THE ALTERNATIVE? THOSE IN THE RELIGION YOU PROFESS ALSO HAVE CHARLATANS AND PHONIES. YOUR RELIGION OF THE GREAT MOTHER - ARE ALL THOSE IN IT WITHOUT FAULT?
But I believe true healing is about teaching people the power of the mind. The benefits of mind power shouldn't be just in the hands of a elite priesthood, but for everyone.
I am aware of the dangers of mind power. People can get into trouble in the Occult playing about with thought forms. But ordinary people unaware of their power can do the same thing. They can create very negative thoughts without being aware of what they are doing. So someone who likes to 'moan' about things can create a negative through form and become depressed, and may end up committing suicide. Or someone into who like reading about scary horror stories can summon up demons without the awareness of what they are doing.
As with everything, knowledge is power. And the power of the mind is the most important knowledge we all can gain. Because with this power we can create our own reality.
RASA: I AM NOT DISAGREEING WITH YOU ON MIND POWER. I AM SIMPLY SAYING THAT DEMONS EXIST. THIS IS MY BELIEF. WHY DOES IT TROUBLE YOU? WHY DOES THE POSSIBILITY OF THIS BELIEF MAKE YOU UNEASY? WHY DOES IT ALL HAVE TO BE MIND POWER, BUT NO INDIVIDUAL EVIL FORCES? CAN YOU ACCEPT ME AS I AM, WITH MY BELIEFS? I CANNOT PROVE I AM RIGHT, EXCEPT BY THE TESTIMONY OF THE SAINTS OF MANY RELIGIONS AND MY OWN PERSONAL EXPERIENCE. BUT YOU CANNOT PROVE ME WRONG.

THIS IS AN ARGUMENT WHICH HAS NO SOLUTION EXCEPT PERSONAL BELIEF AND UNDERSTANDING. YOU GAVE ME YOURS, I GAVE YOU MINE.

YOU BELIEVE THAT BY UNDERSTANDING WE GET RID OF NEGATIVITY. SO DO I. BUT MY BELIEF DIFFERS FROM YOURS IN THAT I BELIEVE THERE IS NEGATIVITY FROM THE MIND, AND ALSO INDIVIDUAL ENTITIES CALLED DEMONS, EXACTLY THE WAY THE CATHOLIC AND CHRISTIAN CHURCHES TEACH. I DON'T THINK WE ARE GOING TO BE ON THE SAME PAGE ON THIS. THERE IS A GREAT STUDY TO BE MADE ON DEMONS AND THEIR EVIL, AND I HAVE PURSUED IT. I CANNOT POOH-POOH IT AS EASILY AS YOU ARE ABLE TO. I HAVE SEEN TO MUCH EVIDENCE OF THEIR REALITY. YES, YOU CAN BLAME MENTAL ILLNESS AND EMOTIONAL TROUBLE ON IT - BUT THESE THING ARE SEPARATE AND SOMETIMES INTERTWINE. I THINK WE NEED TO THINK MORE ON THIS SUBJECT. HOW MUCH STUDY HAVE YOU DONE ON PEOPLE LIKE BOB LARSON? PROBABLY NONE. WOULD YOU LIKE TO KNOW WHAT HE HAS TO SAY, OR IS YOUR STUBBORN (YOUR WORD) MIND MADE UP?
DISCUSSIONS ON