WHO IS THE DEVIL?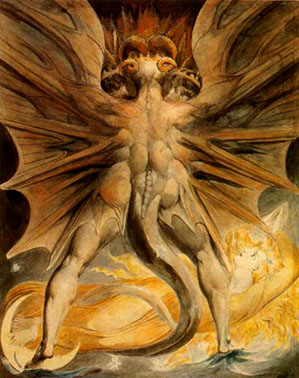 The Great Red Dragon and the Woman Clothed in Sun
William Blake
There are several schools of thought on this. Catholics say he is a living spiritual entity, who fell from Heaven into Hell. He is here to steal, kill and destroy and tempt the human race so they end up in Hell with him.
Now a seeker I recently came into contact with has what seems to me 'Unity' version of Satan, which is the inert dark deep Saturnal, slow matter, somehow hard like a rock, and a creation of God wholly good, no doubt.
Then the nondualists have their version. A swami yelled and screamed at me recently for my version and declared that Satan comes from human thoughts, and Satan is not real, but we make it so through our negative thinking.

Most of my friends who are not religious also blame human thoughts for what is interpreted as 'the devil.'
The solution to the devil? To some, it is 'positive thinking' and of course, to nondualists, reaching above the mind where there is no devil, only eternal Light. This is fine if you can reach the eternal Light and stay there. What if you don't? Or someone else can't?
I can refer you to the word's greatest exorcist, right on the site:
READ BELOW
Bob Larson is a fundamentalist Protestant, so extreme that he thinks Harry Potter is dangerous. But he knows his demons! I am in awe of his experience and power over them. I have personally done thousands of exorcisms for friends, family, and whatever is needed in the world, in the privacy of my own home. Things change. Evil leaves, evil disintegrates. By the force of a word, in union with God, with Jesus and Mary you can banish these culprits right to the Pit of Hell, never to return. They must obey - whatever they are. Any evil lurking about your family or friends? Try exorcism and see if it works. If it works you are ahead of the game, whatever they are. I just take water I have blessed myself (with salt) and sprinkle it about. You can do this without the salt or water. I cry out in a firm voice,
'BEGONE, SATAN, IN THE NAME OF JESUS AND MARY. GO TO THE PIT, NEVER TO RETURN. DEMONS OF CHILD ABUSERS, GO TO THE PIT, GO TO THE PIT, GO TO THE PIT, NEVER TO RETURN!'
That is one example. You can banish any demon - name the names and see them fly.
Rasa Von Werder
November 17, 2005
BOB LARSON
WORLD'S BEST DEMON BUSTER
I thank God for meeting Bob Larson via Trinity Broadcasting. It led me to purchase most of his great tapes on demon busting! This man is a consummate professional, anointed expert of exorcism. I know of no one who knows more than he in this department. Herein I will show you the jackets of his wonderful video programs, which are essential tools for those who really want to get serious against demons. Mr. Larson has been practicing his ministry full time for over twenty years, and he is without peer. He has no fear whatsoever of the most heinous of demons and knows who to ferret them out, confront them and send them to the pit, never to return. He is phenomenal also because he understand all the various types of demons, how they infiltrate and control. He knows their wiley ways and sneaky tricks.


Bob Larson speaks in public all over the world, and right there in front of large audiences, he deals with demons. He also has his own fascinating radio show, where he ministers head-on, once again, against the Creatures Without Conscience. One of the most important things he brings out to Christians is that CHRISTIANS CAN BE DEMONIZED. He himself at one time didn't believe it - and I've met Christians who say,
"I cannot be demonized. I'm covered by The Blood, etc."
Oh, you fool! Jesus Himself was assaulted. Our Blessed Lady was assaulted, and all saints and Christians are assaulted. In fact, it is the good that Satan attacks the most. The evil he already has in his pocket. Doesn't have to waste time with them. Those that are doomed are in his black book. It is the good, the innocent, the holy that he spends most of his time pursuing. The better you are, the cleaner you are, the more you can expect Ole Sleufoot to come after you.
I recommend that you go to Bob Larson for instruction and inspiration. His religion is not mine. Dear Bob would be aghast at my site. He is a Fundamentalist, which means Jerry Falwell and Pat Robertson. Need I say more? But I take and learn from every spiritual giant who is out there, and Bob Larson is one of them. He knows his stuff.
Visit Bob Larson's Official Website:
Visit Also Bob Larson's Online Store To Purchase
His Demon Busting Videos & Books
Rasa Von Werder
September 25, 2004
---
---