PURGATORY & HELL
WILL YOU GO THERE?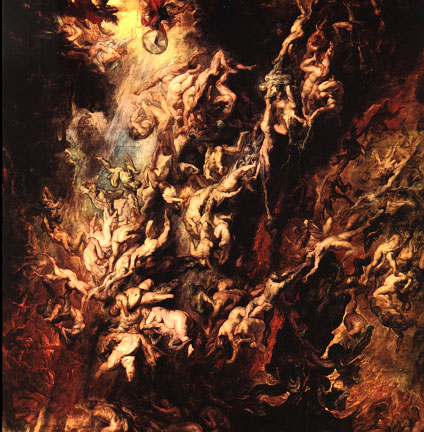 Fall of the Rebel Angels
Peter Paul Rubens
Perhaps it is not an absolute dogma, but all my Jewish friends pray Kaddish after loved ones die, for the relief of their souls. Even if few believed in Purgatory, my own would not be altered, because I have direct experience of them and love them more than I can explain. Helping them has provided some of the most touching and meaningful moments of my life. You cannot describe how when you see this poor soul suffering, all alone, and no one reaches them, and they are there waiting and waiting, but no one comes. This is because no one prays for many of them. The living are concerned with life and once dead, you are forgotten. Not so with me. I have thought about them for many years. Also, it is indescribable the joy I have felt during the time they were finished cleansing and were about to ascend, the glory and the ecstasy of it! For in moments they would see God face to face for all eternity! Then they would appear so young and beautiful (Sinatra looked seventeen) and sometimes they would hug and kiss me. It is so wonderful - the true love there! There was more love with them than any persons I ever knew on earth. Oh, yes, it was worth it to suffer for them! And when you ask them for help, they have great power with God!
Now here is the answer concerning Purgatory and Hell, to the degree that I understand it.

Purgatory is temporary. It may last five minutes or a hundred or even more years. It is where you go to be cleansed of the sins that have been forgiven. Sin affects the soul and renders it not totally pure crystal clear, it is in a sense, soiled, cloudy, dusty or defiled. No there is a price to be paid for sin, even when it is forgiven, a karma. That is Purgatory. And so you go according to the degree of the sin, and you wait there until it is cleansed. The separation from God is the greatest torture. Then there are other pains. There are those souls who are even close to Hell and have rather hellish pains. It is the sacred duty of the living to help these souls - not those on the other side. It is our opportunity to gain merit for ourselves.


Now about Hell. Think of terrible persons who you could not believe had not one ounce of good. Everyone has heard of Timothy McVeigh? He was saved, forgiven. I ministered to him. I was the only one who was able to reach him, he told me. And when he ascended, it was in record time - shorter than any other person I had ministered to. Exactly one year from the day he was executed. Who knows the mercy of God? God sees the heart within, people don't. His story is on the previous link I gave you.

Most People seem to think that God throws people into Hell for their sins. Not quite so. It is for the UNREPENTENCE OF SIN that people go to Hell for. All sins can be forgiven, but because people are not sorry, they cannot be forgiven. And that is why they end up there. These people have earned Hell by the Divine Justice, and it has to be that way, and we cannot feel sorry for them one iota. If there were no Hell, there would be no justice. There would be no free will.


My first husband Stanley is in Hell, and I have seen him about five times. Ugly stuff. And I never realized how evil he was until I spoke to him in Hell. He was glad that an evil act he had done to me had long-lasting harmful effects. He was raging man, his eyes glowed like black tar, when he saw how God had brought me incredible good fortune later in life.

Did you know that the majority of people end up in Hell - more than 50%? So say all the saints. They are on the 'broad highway to Hell' where the gate to Heaven is small and narrow. More rich people go to Hell, and more men than women go to Hell. This is reported by all the saints I read.
RELATED ARTICLES:
---
---