ADVICE TO DEVOTEES
IT PAYS TO GIVE TO MOTHERGOD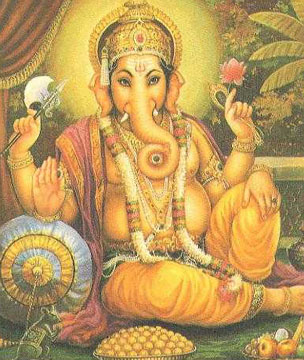 GANESH, THE HINDU GOD OF PROSPERITY
DEAR MOTHERGOD,
I AM LOOKING FOR A NEW JOB, AS MY EMPLOYER HAS CUT MY HOURS DOWN A WHOLE LOT. I INTEND TO SEND IN A MONETARY PLEDGE MOTHER, I AM JUST HAVING A HARD TIME FINANCIALLY RIGHT NOW. I DO LOVE YOU AND I PRAY TO YOU EVERYDAY. I WORSHIP YOU, FOR I KNOW THOU ART GOD. THIS IS HOW I PERSONALLY FEEL ABOUT YOU. I AM SURE YOU ARE FEELING PAIN AND MY HEART ACHES FOR YOU BECAUSE OF THIS. MOTHER, I AM REAL AND I BELIEVE IN MATRIARCHY WITH ALL MY HEART, SOUL, AND MIND. I ALSO BELIEVE YOU ARE THE ONE WHO HAS BEEN GIVEN THE POWER TO MAKE MATRIARCHY A REALITY IN THIS DAY AND AGE. IT IS SORELY NEEDED. MEN HAVE DESTROYED THIS WORLD WITH PATRIARCHY AND THE LIES OF SATAN. I FEEL TERRIBLE BECAUSE I AM ALSO A MAN, YET I HAVE REJECTED PATRIARCHY BECAUSE I KNOW IT IS A LIE FROM HELL. I AM REALLY SORRY I HAVE NOT BEEN POSTING, I GUESS I FELT LIKE BECAUSE OF MY SITUATION I WASN'T NEEDED OR WANTED. I DO NOT BELIEVE THOUGH IN MY HEART OF HEARTS THAT THIS IS TRUE IN ANY MANNER. SO I AM KNEELING RIGHT NOW WITH MY WIRELESS KEYBOARD AND TYPING THIS TO THEE. HAIL MOTHERGOD RASA, MY SALVATION AND STRENGTH. I LOVE YOU, MOTHER. I PRAY EVERYTHING IS ALRIGHT. HAIL MARY, THE GREAT GODDESS AND MOTHER OF CREATION.
DEVOTEE RICK

RESPONSE FROM RASA
DEAREST RICK,
THESE ARE FINE WORDS. NOW I WILL VERBALLY SPANK YOU FOR NOT COMING THROUGH IN THE PAST, AND THE KARMA YOU ARE SUFFERING NOW IS A RESULT OF IT. IN OTHER WORDS, YOU HAD FINE WORDS BEFORE AND YOU PLEDGED YOUR LOVE AND SUPPORT, BUT YOU DID NOT COME THROUGH. I GAVE YOU MY LIGHT AND LOVE AND TIME, BUT YOU DID NOT DONATE OR HELP. WHAT YOU DID WAS MINOR IN ASKING ONE SEARCH ENGINE TO CONTACT ME, AND MY PAID WEBMAN DID THE WORK. YOU SAID YOU WOULD PAY FOR A SEARCH ENGINE TO PUT ME ON TOP, BUT YOU DID NOT DO IT. (THAT PART WAS OK) THE OTHER THING, WHEN I WROTE MY STERN LETTER CONCERNING DONATING AND VOLUNTEERING (BECAUSE I WAS SICK OF THE GUYS NOT HELPING) INSTEAD OF COOPERATING AND AT LEAST PLEDGING A DONATION OR ANYTHING, YOU DROPPED OUT FOR A WHILE. NOW WAS I MAD? NO.....WAS NOT. SOME OF THE GUYS SENT IN LETTERS PLEDGING HELP, WHICH WAS A NICE THOUGHT. ONE MAN, BOB, SENT ME A CHECK FOR $80. WHICH THE VERY NEXT DAY AFTER SENDING IT TO ME, GOT IT BACK AT THE CASINO. BUT YOU DISSAPEARED. YOU SENT NO LETTER, NO PLEDGE, NO NOTHING. AFTER A WHLE YOU WROTE NICE LETTERS AGAIN, BUT NO HELP. I WAS GLAD YOU WERE STILL WITH US.

NOW I MUST SPEAK TO ALL OF YOU ABOUT THE PRINCIPLES OF PROSPERITY. THIS WILL BE A KIND OF SMALL ARTICLE.


PRINCIPLES OF PROSPERITY


IF YOU GIVE TO GOD - ESPECIALLY TO THE SPECIFIC PERSON OF GOD WHO IS INSPIRING, HELPING YOU, GOD GIVES YOU BACK TENFOLD, OR EVEN MORE. GOD DOES THIS FOR A REASON - TO REWARD YOUR LOVE. GOD WANTS YOU TO LOVE AND GOD WANTS YOU TO UNDERSTAND THAT WHEN YOU GIVE OUT OF LOVE GOD WILL RETURN TO YOU MANY TIMES. NEVER BE AFRAID TO BE GENEROUS. HAVE FAITH THAT YOU WILL LOSE NOTHING, BUT YOU WILL GAIN MORE. I TELL YOU FROM MY EXPERIENCE AND FROM ALL I HAVE READ, THAT THAT WORKS TOTALLY, PERFECTLY AND ALWAYS AND NEVER FAILS. IF YOU ARE GENEROUS, YOU RECEIVE MORE, AND GOD WILL ALWAYS TAKE CARE OF YOU IN SOMETIMES A MIRACULOUS WAY. BUT YOU MUST GIVE OUT OF LOVE, NOT THE DESIRE TO BE RICH. THE DESIRE TO BE RICH BY GIVING - THAT IS A PERVERSION OF THE PROSPERITY PRINCIPLE. IF ALL YOU DESIRE IS TO BE RICH RATHER THAN RICH WITH GOD, THEN YOU STAY ON A LOWER LEVEL. MANY PEOPLE GET STUCK ON THAT PLANE AND DO NOT REACH ENLIGHTENMENT. NOW YOU SAW THE THREE TESTIMONIES THAT EXPLAINED RIGHT HERE IN THE LAST DAYS, WHEN BOB GAVE GOD GAVE HIM BACK. WHEN KEVIN GAVE, GOD GAVE HIM BACK THROUGH HIS DAUGHTER. AND THE DAUGHTER WON BACK TEN TIMES WHAT SHE GAVE TO MOM AND DAD! AND I TOLD YOU HOW RECENTLY I GAVE $500. TO POOR RELATIONS AND GOD SAVED ME THAT AMOUNT INSTANTLY ON MY TAXES! (AND BELIEVE ME, MORE IS COMING FROM GOD BY YOUR KINDNESS. YOU GET LOVE, AND LOVE INCREASES AND EXPLANDS ALL AROUND, TO MANY PEOPLE!)

BUT OF COURSE, THE OPPOSITE IS TRUE. THAT IS TO SAY, IF YOU DO NOT GIVE, YOU DO NOT GET AN INCREASE. IN FACT, IT IS A GOOD LESSON FROM GOD, THAT WHEN YOU REFUSE TO GIVE, SOME OF WHAT YOU HAVE IS TAKEN AWAY FROM YOU! YOU GET BAD LUCK WITH MONEY WHEN YOU DO NOT GIVE! OR ELSE, YOU JUST STAGNATE AND DON'T GET AHEAD. WHY IS THAT? BECAUSE GOD TEACHES US THAT IT IS NOT A GOOD THING TO SEE YOURSELF IN AN EGOTISTICAL/SEPARATE WAY. WHEN YOU HOLD ON TO THINGS, AND MONEY, AND REFUSE TO SHARE, YOU SEE YOURSELF AS AN ISLAND AND YOU SEE YOURSELF AS LIMITED AND YOU HOLD ONTO SOMETHING BECAUSE YOU THINK THERE WILL BE LESS FOR YOU. YOUR FAITH BECOMES WEAK, YOUR LOVE GROWS SMALL. THIS IS VERY BAD FOR YOUR SOUL. GIVE AND IT SHALL BE GIVEN TO YOU!

PEOPLE WHO REFUSE TO PAY THEIR SHARE WHEN A BUNCH OF PEOPLE GO OUT TOGETHER: THERE WAS A WOMAN LIKE THAT. NEVER PAID HER SHARE OF THE MEALS. AND SHE WAS THE ONE WHOSE PURSE GOT STOLEN! THERE ARE REVERSALS, BAD BILLS, TICKETS, LOSSES, BAD FINANCIAL DECISIONS AND BAD MONEY LUCK, FOR THOSE WHO DO NOT GIVE. THEY SUFFER FOR THEIR STINGINESS! THE UNIVERSE MAKES YOUPAY, ONE WAY OR ANOTHER!

I WAS NOT PLANNING TO PREACH ON THIS SUBJECT, ASSUMING YOU WOULD ALL GIVE GENEROUSLY. HOW WRONG I WAS. HOW WEAK FAITH AND LOVE IS IN SOULS, AND HOW STINGLY PEOPLE ARE. THEY MUST BE TAUGHT, AND I AM THE TEACHER. AND SO, I MUST NOW PREACH PROSPERTY, AS PEOPLE DO NOT UNDERSTAND. I LEARNED FROM THE NUMBER ONE TEACHER ON PROPERITY, CATHERINE PONDER. THE YEAR I LEARNED HER LESSONS, I SENT HER ALMOST $4,000. AT THE END OF THAT YEAR. IN A FEW YEARS, I WAS WEALTHY, EARNING A GREAT DEAL OF MONEY IN MY OWN BUSINESS. MY GIVING MADE ME RICH, JUST LIKE SHE SAID. I DID NOT DO IT FOR THAT REASON - I DID IT FOR THE LOVE OF GOD. I DID NOT HAVE TO SEND HER THAT MONEY, BUT I WANTED TO. SHE WROTE THE BOOKS, I READ THEM AND LEARNED, AND SENT HER MY TITHE. THE NEXT YEAR, I MADE MUCH MORE THAN THE PREVIOUS. THE MORE YOU GIVE, THE MORE YOU GET BACK FROM GOD AND THE UNIVERSE OF OF GOD!

NOW LET ME TELL YOU THIS. I RECEIVE SUCH GOOD WORDS FROM SOME OF YOU GUYS. YOU KNOW WHO YOU ARE. PROMISES. BAIT. IT GOES LIKE THIS, "I PROMISE YOU EVERYTHING GOOD.....ETC."

YOU PROMISE, BUT YOU DON'T DELIVER. YOU THINK YOU CAN FOOL GOD? PUT YOUR MONEY WHERE YOUR MOUTH IS. YOU MUST GIVE TO THE CHURCH BOTH FINANCIALLY AND IN OTHER WAYS. THEN YOU RECEIVE THE LIGHT, LOVE AND POWER OF THE CHURCH. IF YOU GIVE NOTHING BUT E-MAILS AND PHONE CALLS, (WHERE I AM HELPING YOU), YOU ARE REALLY DRAINING THE CHURCH. YOU MAKE ME TIRED. YOU ARE WASTING MY TIME, ENERGY AND YOU ARE DISSAPOINTING ME. AND YOU ARE STAYING BABYISH. DON'T BE A BIG BABY. IF YOU GIVE YOU GROW UP. RESPONSIBILITY IS A SIGN OF MATURITY.

END OF LESSON FOR NOW

NOW RICK, YOU SEE THE RESULT OF NOT GIVING. IS THERE ANYONE ELSE OUT THERE WHO HAS SUFFERED FOR LACK OF GIVING? HUMBLE YOURSELF AND LET ME KNOW. REMEMBER GIVING MAKES YOU GET BACK AND BRINGS YOU GOOD LUCK IN EVERY WAY, AND STINGINESS BRINGS THE OPPOSITE. TEST IT OUT. SEE FOR YOURSELF!

MUCH LOVE,
RASA VON WERDER
---
---
PASTOR'S LETTER
JUNE 30, 2005
SHOULD A GURU PROMOTE HERSELF?
I was recently told by a critic, "Gurus do not promote themselves. They do not look for devotees, they just wait for them to come."
The remark opens up a whole vista of questions that deal with many things. Do they, or do they not, really promote themselves in India? Is it righteous for a guru to promote herself? Is there a difference between a Western anointed leader and a guru from the East? Do Western spiritual leaders promote themselves? Does God want spiritual souls who have Gifts to promote themselves?
A big door opens up to the culture of India vs. United States. There are different perceptions of holiness and reaction to it. Let us just start with a typical example of a saintly soul from India.
Most of the gurus that I have studied were noticed by others - in India - because they followed a peculiar but familiar pattern. They became introverted and fell into trances. They no longer cared for the things of the world and the flesh. They seemed to be in another world, which was assumed by those around them to be some sort of state of Samadhi or introversion in God. So simply by being different in a religious/spiritual way, these souls brought attention to themselves. Sometimes only one soul was attracted, and that soul would help the introverted person in their temporal needs. But for the ones who became famous, more souls would come. Not all that gathered were welcome, and sometimes too much attention was discouraged - as it could get overly zealous and disturb the aspirant - but this is a pattern I see over and over in famed gurus:
1. Introversion, sometimes resulting in seemingly eccentric, but to Indians, acceptable spiritual behavior (such as wandering in the jungle, disappearing or being incapable of tending to earthly concerns.)
2. Drawing one or more persons to themselves who believe in the holiness of the introverted soul.
3. Some sort of gathering happens, in time, be it small at first, but over the years, could be quite large.
4. Fame brings traffic, traffic brings fame. People noise these now-gurus throughout the land, and there could be a center, ashram, and charitable work.
5. Disciples or in some rare cases, the gurus themselves, travel the world and bring more attention to their gifts and work. A guru becomes famous.
Did "promotion" enter into this picture? Isn't it obvious? A friend of mine, Haarvi, said to me,
"Challenge them to point out one guru who DID NOT promote themselves."
He found on the internet for me a quote where Ramakrishna longed for his great devotee, Narendra, whom he addressed as "Narayana," a name of God. Why had he tarried so long? I recall Ramakrishna crying to God for years,
"Where are my boys?"
Haarvi pointed out to me how all the gurus he knew, including his own, went on tours throughout the world, preaching and thereby, finding devotees.
Now until recently, there was no internet. But as I checked the groups I belong to, I noticed a zealous soul promoting for Amma, speaking of her greatness and a new group set up for her. I was promoting and so was Amma, through her devotee. We were doing the same thing.
The Western-yoga-beavers I know were all raised on the same stock, receiving from all the gurus "promoting themselves." It starts with Paramahansa Yogananda, and "Biography of a Yogi." Then we hear of Ramakrishna and Vivekananda. Then we graduate to the dynamic duo of Muktananda and Nityananda. In between these mountains of glory there are many others interspersed. Hundreds of gurus came west to spread the word, and we all benefited. And what are we supposed to do with these treasures? Bury them under a rock? Or are we to partake of yoga, and become gurus ourselves? Why not? One guru produces another, and all gurus, one way or another, promote themselves.
Rasa Von Werder
June 30, 2005

---
---
PASTOR'S LETTER
JUNE 24, 2005
THE PEDRO PROBLEM
New beginnings! Great traffic coming to the site, averaging almost 1,000 people daily, and potential devotees appearing in scores. But all is not Love and Light in Guackamora. You have the Hindu who says I'm stealing from the Hindus, the catty woman who says my appearance"is a joke, right?" Then you have Al and Mo accusing me of improper behavior - doing nudity and making men horny and all that. (We will address them later on.) And then there is Pedro. All of you on this site have seen a whole series on Pedro. Pedro mad because of celibacy. Pedro made because I am "not enlightened." Pedro mad, mad mad. What is going on here? After several attempts at disarming Pedro (he had a man with weapons waiting behind every door I opened) I finally channeled God, and God saith:
"The Pedro problem is one of projection and unresolved conflicts. You represent his mother, or some person of authority, who once belittled him and made him feel ashamed and insignificant. It all started with the celibacy. Poor Pedro just wants to go off and have fun with himself. But there you are. It is the little voice in his head that says,
"Bad Pedro! Pedro must not have fun with sex,"
and that starts the ball rolling. Here you are, the living embodiment of that voice, and arguing with Pedro will continue as long as that little voice in his head keeps talking."
Indeed, I remember one such case at the gym. This guy who owned a gym I shall call "Zuckers" invited me with the free celebrity pass. All I had to do was lift weights and have fun. They do this for people in New York City if you are known as a bodybuilder. But Zucker had a problem. In his mind, I was Mom. Not that I was so old. It's my chest, and my dominating or whatever character, that reminds men of their mothers. Did Sucker love his Mom? He was ambivalent, and because I was "his Mom," in his wretched mind, I either got whacked or I got loved, depending which side he was on that day. He regaled me with words of how crazy Mom was, over and over. Did not explain the details, just exhaustingly crazy Mom. One day he watched me train and joyfully gave me an expensive leather belt - for free. But then, it was time to take promotional photos for the gym. I was ready. But he treated me like a pitiful has-been who ain't got what it takes any more. Wow! Was I angry! I was so angry I cried and did 97 sets that day - breaking all my records. The most I had ever done in the past was about 40 or 50, and the anger with no food but one cup of coffee made me vent 97. And God paid him back for his evil. The young chicks (who were not as good as me) and the studs all went to the photo shoot that Zuck felt would put his gym on the map. These photos were promoting merchandise and would be featured in Weider magazines. While I was crying and lifting weights, these beauties were having their photos taken. But one of the muscle heads stole bathing trunks, another expensive jewelry and a $1,500. watch provided by the agency. The agency would not release the photos till Zucky paid up. End photos, end Zucky Heaven. Karma came back real quick. But that's another story. The dilemma here is PROJECTION. I am who they think I am and they do with me what they would do with the person they think I am, although I am not that person. Capish?


Pedro must find fault with me in order to heal his inner conflict. If I am wrong, then he is right. If I am right, then he's got to be be wrong. So he has to fight, fight, fight me to try and take me off the pedestal - to knock me down. It won't happen, but he is exercising or venting himself on me.
Now we come to Mo and Al, or Al and Mo. They are real men and have a real problem. When Mo first appeared I was "Rasaji," a term of high respect. I smelled trouble. I sensed it. Lots of teachings on Kashmir Shaivinism. I applauded him and the kudos kept coming toward me. How much he loved me, and all that. I let him vent his message. He spoke in public and private to me, and then I asked him if he wanted to be a devotee. Then he started picking on me in all sorts of ways. I kept answering him. The letters kept getting more picky and less loving. In his mind, there was something wrong with me. Finally, after all the love, he wanted himself wiped off the site. He wanted this change, that change, from the letters he had posted. My paid webman kept running to keep up with it and my nerves were frazzled. The webman asked me if he should just wipe the putz off the face of my sites, but I had an ingenious solution. No, just change his NAME from Mo to Mike, and that ends it. What was the Mo problem? Mo only came to show me what he knew. A Hindu/yoga expert, he knew it all. He had everything but humility. And love? That's just a word. He finally told me he could not abide with me because I had secular images - not Godly - along with images of Mary and Kali. Now Mo could belong to the fetish/domination scene, but that didn't make him bad. When he was good, he was very good, but when he was bad, God understood. But when I was "bad" God didn't. Mo never wanted God. Those who want God are hungry for God and will take any decent guru for what they can get out of her. The funniest part of all this is when he made me mad, I was going to turn the wrath of God upon him. He then begged me not to. He had kept saying, "Give me an experience of God!" I told him that experience would soon be the wrath. He begged me not to turn the wrath of God upon him. The funniest thing is that he said he didn't believe in me, but he believed I could do this - or why else why was he scared? He need not have worried. God said to me,
"I don't use my wrath on a mouse."
Now Al was the goddess worshipper, of recent memory. Oh Goddess, I will serve you personally in any way, including washing your underwear," etc.

At first I joked with him, but again, I smell something bad. I tell him to be careful to see the difference between what I am offering and the domination scene, etc. This is about God, and we have to keep our minds lifted up, and we must be spiritual.

Then it comes. It is all my fault. Why do I have the nude photos? Men are men. They cannot control themselves. It is my fault that he is getting horny and all that, because I am doing this. And I cannot blame him, etc. I ask, what about the perfectly normal men who have no trouble with the nudity? After all, it is not pornography. People are not having sex in front of you nor doing salacious, blatant acts. Just innocent naked bodies and soft hugs and kisses for the bridal mysticism. But men will be men. And what is wrong with Al? Al is not looking for God, he is looking for women and sex. The domination/fetish scene is sex, not God. You can call the woman goddess, Kali or whatever you want, but if it is sex you are looking for, you will not get God.
Al left post haste when I told him I would answer him publicly, and he should fasten his seat belt! The answer came quickly.
"Oh, holy goddess, I am out of here! No need to answer me, I will never bother you again. I am leaving your two sites right now. I love you in perfect, unconditional love."
How funny! At the bottom of men (and women) who seek the world and the flesh is weakness - is it not? When the power, the might and the majesty of God comes at them - as Truth- do they scatter!
Here is a whimsical fact. The critical letters are as stimulating as are the kudos. When someone comes at you and wants to whack you on the head, you duck. When they want to hit your legs, you jump. If they punch you in the solar plexus, you tighten your muscles. Whatever way you react, you move, and therefore, your body is stimulated into action. So it is beneficial. On the other hand, the loving letters give you that warm feeling inside, that glow, that makes you feel good about yourself. Life cannot be one or the other, we must accept both for our own good.
Rasa Von Werder
June 24, 2005

---
---
PASTOR'S LETTER
JUNE 22, 2005
RAMANA MAHARSHI APPEARS TO ME
Yesterday I read an account of a great non-dualistic saint of India, Ramana Maharshi, and I want to recommend him to you. After reading his life and the devotee's experiences of him, all I did was kill my hand and place it on his picture on the monitor, and say, "I Love you." I told the friend that gave me his site I would pray to the saint, but I did little of that, just thought about him with love. Oh wonder of God, he appeared to me in my dream last night and blessed me! He came to me rather taller and darker than what he really was (his skin was gold in real life, but in my dream he was dark. This represents the mystery of his place in infinity, which is darkness to mortals.) He had that same startled, super-focused look he has in his images, and quite handsome. He had his hands folded sort of on his lap, but extended outward, with long fingers. I put my hands on top of his, and affectionately said,
"What to you is a perfect day?"
He looked all around me, at my life and work. Next, he had my father and myself in a vehicle, Dad and I sitting in the back, Dad behind him. He was going to take us as we needed a ride, a way. He said he'd take us to the bus (Greyhound) that takes us to New York City. I was wondering if he'd drive us himself, all the way to the city, but it seemed the bus was enough.
MEANING OF DREAM
There are two central themes and clues in the dream. One is the hands and what I ask him, and two, he has a vehicle where he is taking myself and Dad to where we need to go. The hands are in "prayer mode" like that ultra-famous image of Durer's "praying hands," but the hands are young and dark. This saint died young. He never thought about his body and could have lived longer, but he went back to God at 54. In touching his hands, I touch his love. It is like touching a place of nourishment or electricity, like a wellspring or a link. I linked with his love when I said, "I love you!"
Then, he is taking me somewhere. Where? I spoke to him the word "perfect." He is taking me there. He has a vehicle - a power - to transport me to an easier place of meditation, so I can be in the Self or Atman (non-dualism) more readily. (I do admit that the cares and distractions of the world are keeping me hopping and jumping rather than always peaceful, calm and blissfull.) This place of perfection, of Nirvana, Samadhi and Peace, is represented by New York City. Why? It seems there would be less peace there than anywhere, but it represents "success." It is a successful city! It is one of the main centers of the world. There is another step, though, the bus. Since it is "greyhound" I suspect it is the mind. Grey means mind and hound means sense. So I must go, with my mind and sense, to the non-dualistic place of peace and Nirvana. I must cooperate with the grace of this saint.
Why is my Dad in the back seat with me? (My Dad has been in Heaven since 1982) It could be that I have sorrow concerning my Dad's neglect of me, and that this sorrow needs to be healed. By leaving my body (I am the spirit, not the body) I will leave this pain, which perhaps dogs me at times. (We carry things like that on and on, and they come back to rob us of our peace.) If any of you would like to check out this saint, please go to:
http://www.cosmicharmony.com/Sp/Ramana/Ramana.htm
I thank Harvey Erickson for the link.
Rasa Von Werder
June 22, 2005

---
---
PASTOR'S LETTER
JUNE 21, 2005
DEVOTEES, CHILDREN, & GURUS
Lately, some new parties have come and I've been thinking about the guru-devotee relationship, in the way it compares to parent-child. The parent takes care of the child, nurtures it, until it grows up. Then the child begins to pull away from the parent - at puberty - and finally (in most cases) leaves. (In some cases, there is an unhealthy dependence, and a child can't seem to tear itself away from the parental relationship.) I have noticed a few things about the growing up of children. When they are little, in most cases, they are bonded to you, the parent. You have a window here to instill in the child everything you can, which includes spirituality and moral values, self respect and love of others and so on. While the child looks to you as the end-all and be-all of security, that window is open. I've heard parents say they wait till a child grows up to introduce it to religion, to let it make up its own mind, but then it's too late. If these matters are not instilled from early on, the mind maybe be blocked for further development. Instead of spirituality, other things may have taken place in the mind of the child. Nature abhors a void, so instead of spiritual concepts, other concepts could have taken hold. This is total spiritual neglect of a young person, and the parent here is to blame.
Once puberty hits, the glands become active and the child is no longer bonded to you as much. By the very nature of biology, the child must think about breaking away and starting its own family, leaving the nest. The windows to you are closed. The child shuts you out, and it must be so, because it will not grow through continued dependency. For good or ill, it must stretch its wings and fly, and if it falls, it falls in trying to live. But it must try. That is why, you must do all you can for a child before puberty - before the need to break away from you occurs.
Now let us examine this in the context of guru-devotee. A person comes to a guru, wanting self -realization or enlightenment. Your job as guru is to guide and nurture that soul until it reaches it's potential. Then what? He leaves. He has to stretch out his wings, and start his own family. He has to then be a guru, and give birth to children. If he stays with you, it is unnatural and non productive. Of course, they can stay in the church or in the vicinity, or stay friends. But they must go their way without fear and without provocation. They must be free!
I do recall that my original guru, of whom I spoke in Gurus From Hell, Part II, Rev. Verna Talbot, told me, in answer to my question, that it would take six years for me to receive all that she had to give me. (Six years is not a long time.) By some coincidence, although I tried to leave her twice, I remained for exactly six years as devotee. I had known her a year before that, but did not pledge myself. A guru is not forever. The guru lives in you, but the guru does not dominate or hold authority over you for the rest of your life...
I have had many gurus, and each one enhanced my spiritual life. You must never hold on to one persona of God, feeling that it is the absolute for the rest of your life. You might have received all that you can - or most of what you can - from that guru, and onward you must go. My first gurus were Jesus and Mary. Although I reached all the highest points a Christian is capable of reaching - which would be oneness with Jesus, and Him crucified, which would be mystical marriage and martyrdom, I still receive from Jesus and Mary. But I do not worship only them. I went into yoga and received from the gurus there, and received abundantly. Since God is infinite, remember, do not get stuck in one groove. This does not mean you jump, like musical chairs, with one week this and another week that. You stick with one guru and one discipline until you have reached its apex. When you have received what is there, rest, and then move on. This is in no way an insult or disrespect to the guru you receive from.
WHY IS CELIBACY IMPORTANT TO THIS BOND WITH GURU?
I have had a lot of experience with teaching young people as a minister and Community Organizer in my area in Brooklyn. I learned that when you had boys and girls together they could not concentrate and you could not control them. The entire time all they did was make goo-goo eyes at each other, play and flirt. It was impossible for them to learn. These were the ones, of course, who had reached puberty. So in the end, I separated them into groups. There were the "Daughters of the Light," and the "Sons of the Light," and they met at separate times. Then there was peace.
The military tried to have males and females housed together, but it didn't work.
Now if a man bonds with me as his guru, and wants to reach Enlightenment, I must be his primary or Number One relationship. All others must be second best. So if he has a wife or steady, means she is second to me. No woman will take that. She will be hurt, as biologically the woman you are with in bed is your number one. That is yet another reason for celibacy. Without it, there is not the proper bonding with the guru. I can imagine that after you reach Enlightenment, perhaps then you could return to a normal life and have a woman or wife. I know that Hindus want you to get that all out of your system first, then find Enlightenment, but to me, God is first and do it first, because only one thing is necessary. What if you die before your time, and lose your chance of finding God? No, do what is most important first, then the other things can follow. After all, we are not in a race to have children. The world is overpopulated anyway. We are shoving out all the room for the other species and polluting the earth at breakneck speed. We could slow down childbirth to relieve the planet.
There are different degrees of closeness to God and intimacy. When I say "celibate" I am talking about those whose commitment is total and who will give up all for that miracle of seeing God. In my quest, if I could find two or even one such person, I could do all I have to do with that person, myself and one employee. A totally committed and capable person,who is giving 100% is more effective than twenty who are lukewarm. The halfway disciples are babies, and they wear me out. They need to be diapered, and breast or bottle fed all the time. You get up in the middle of the night to feed them. They are infants. The church moves ahead slowly when a guru has many infants and no partners.
But a fully committed and capable person - one who is totally sincere, strong and self sacrificing, even if that person has not yet reached enlightenment but has the capacity to do so - this person and I can do miracles. I have not yet met someone like that, but maybe I will. Am I complaining? No, I am happy with whatever God gives me. Even if I have to live without building a church, as long as it is built after I die, that is good enough. After all, Our Bl. Lord had no church during his lifetime, in the sense of having a building, a center, and a congregation. He set the groundwork and it went from there. Our Holy Mother did see the beginning of the church and I'm sure that made her very happy. But mostly, She suffered in the longing to be with her Divine Son and with God. Finally, Her torture was over and She ascended into Her Eternal Glory. They are doing wonderful work from There. I'd be happy with that myself. Whatever God gives me, I am grateful for.
.
Rasa Von Werder
June 21, 2005

---
---
PASTOR'S LETTER
JUNE 20, 2005
HOW TO FIND A MATE
Heard a couple guys talking about women - both in their early twenties. They were training at the gym. They were talking about females. One guy starts talking about a girl he was getting friendly with and a whole bunch of things about her. The other one said something that caught my attention:
"When I see a beautiful girl I don't even try to pick her up because you know, I don't think I measure up. So I don't think she'll see anything in me and I just hold my head down."
I have observed so many men at so many gyms I have trained at for many years, and it is a book in itself. I can see why they have problems. How they bring pain and loneliness upon themselves, at times. It applies to women as well, but not quite as much.
Men basically ONLY TALK TO THE WOMEN THEY WANT TO HAVE SEX WITH. And like this young man, since he does not think beautiful women will like him, at least, I hope he talks to women that aren't "beautiful."
I felt like taking the young man aside and talk to him, but I did not, for fear he would think I was invading his privacy. Here is the sermon I wanted to give him:
"My friend. Love everyone. Talk to everyone. Do not look at women as sex objects, and talk to only the ones you think you'd like to have sex with. See women as your sisters. Talk to women of all ages, young and old, trim and fat, "ugly" and "beautiful." Something remarkable will happen in your soul and you will be nourished by it. You will begin seeing people as human beings, and not limit yourself to one age, one type of female you can talk to - because that is the one you want to have sex with. If you talk to everyone, not only is it charitable but you will be less lonely and isolated. To speak only to the women you want to have sex with is bad on a few counts. First, it is obvious. All beautiful, sexy women (especially the young ones) get hit on by so many men, constantly. They know what you are after. You are a dog panting for pussy. It is as simple as that. Don't be that dog. Be human.
I learned my lessons the hard way. I was stupid when I was real young also. I learned to look at men as my brothers, and life became more beautiful.
I thought some of the young men at the gym were gay, as they basically ignored me and even gave me the cold shoulder when I spoke to them. But then, after being around a long time I heard them yadda-yadda about girls.
"I tried to talk to this one but she just said hi and turned away? Do you think my earrings and tattoos scared her off?"
"Naw, she's like that with everyone."
There are two young women working at the gym - both beautiful and both about seventeen. There are about thirty young men training that I see all the time AND EVERY SINGLE ONE HITS ON THEM. Do you see the problem here? Can't they see any value in talking to anyone else besides these two girls? Are men human or are they just walking, talking, erected penises?
I used to look at men for sex and it caused me nothing but pain. I became happy when I looked at them as human beings and evaluated them for their qualities other than sex. Men should try that with women.
Rasa Von Werder
June 20, 2005

---
---