NOVEMBER 22, 2005
LETTER TO THOSE WHO ARE
FACING THANKSGIVING IN POVERTY
POSTED ON YAHOO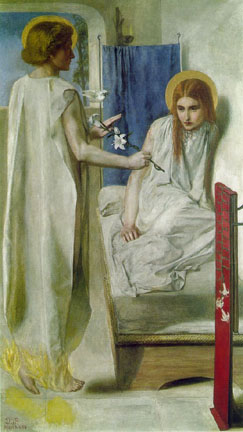 The Annunciation
Rosetti

Dear Ravendancer, Laura & All,
You are a super good writer. I love the way you describe your personal experiences and the world around you. Laura, you have that gift also. This is what makes this group so special - the two moderators who post daily explaining their personal experiences as well as many others who are now following suit.
I was deeply touched by your description of financial doom, and also, the circumstances of the poverty around you. It sounds so real! I can see the old hotel and 'Dragonfly' store! What is the little town near you, is there anything there?

Some time today or tomorrow I will write my account of what I am grateful for. I am debating if it should be 'long version' or 'short version' just covering highlights of the last year. I think I will start it with 'short version' and then give 'overview.' Send the long one to the places I feel really close to - and the short ones to the places I am not so close to, or where they are always looking for things to pick on all the time.
About poverty and your circumstances. You said a lady healer was angry at you for being poor. What is that all about? Do you have wife and family? If so, how many children and what ages?
I have been very poor during many phases of my life. Poor in money, poor in spirit, poor in body, poor in love, poor emotionally, mentally, financially, physically, etc. (This poverty did not come to me through any wrong doing but simply situations of life, starting with family, and then the harshness and unfairness of this world.)
My entire life has been an effort to get out of this multi-faceted poverty and find a place of peace, rest and happiness. I believe I have succeeded, in my 'old age' to have finally reached Valhalla. Of course that is why I am trying to help others out of their misery. And there are many answers. One could write an encyclopedia.
One answer is this:
There are two blessings. The blessing of poverty and the blessing of prosperity. God gives both! You think,
'Are you kidding? Why would God give poverty? It is ugly, horrible, devastating. God is good. This is not of God!'
But didn't Our Lord say absolutely, in the Beatitudes, that 'Blessed are the Poor' and all that? The miserable, sorrowing, lonely, unhappy in any way, are BLESSED!
Now again, Our Lord and God also bring us LIFE, and not only life, but this life ABUNDANTLY. And should you worry about your future or condition? Does not God take care of the tiniest sparrow and is aware of the needs of the smallest bird? And you are as important as the tiny sparrow!
What are we to think? After long pondering, I decided this, that God gives prosperity, and God gives poverty. We need both to develop. We need the left handed and the right handed blessings.
What good comes out of poverty, deprivation and suffering of all types? We get closer to God, we grow spiritually. We don't always feel that growth, but later on when we come out of it, we know we are spiritually bigger and lovelier.
Now prosperity (and all the goodness of God) also comes at the right time. We little children can't handle constant suffering. Sooner or later God relieves us of it and then we are joyful again. God gives us love, money, fellowship, support and success, if we hold out long enough for it.
What would happen if we never had suffering? It would be woeful. Spoiled, proud, vain, we would begin to think life owed us. We would start to look down on the 'poor and weak.' ('Losers', we might call them) We'd all be 'losers' were it not for the grace of God. In our position of constant wealth and health, we would seek more and more contentment and earthly pleasure, until we'd be like the rich man who would not even share his crumbs with Lazarus. (Lazarus, the man covered with scabs lying by the road outside the gated community. The dogs licked his wounds. The rich man would not even give him the scraps from the table.) The rich man went to Hell, Lazarus straight to Heaven.

Need I say more?
I will be spending my Thanksgiving (like most holidays) alone. I am a widow who has been forsaken by family and neighbors. But no need to feel sorry for me. I chose my lifestyle of solitude, in a sense, because I dared to be different, celibate and a total individual.....
I have so many wonderful things. Usually a vegetarian, I will allow myself turkey and other meat, and even sweets - (which I almost never consume.) God has given me the money to buy whatever food I want. I am on a strict diet 350 days a year, but on Holidays I eat whatever and it is a treat. I share all my goodies with the dogs, cat, ducks and geese, chickens, deer, racoons, possums, skunks and birds.
I am not lonely any more because of the internet. Building this Church Site, and all the yahoo groups has brought me friends and family. My life revolves around these people - answering mail,
writing articles and posting. I am the happiest I have been! This is my full time work and I do not have to go out and work for someone else, (I am working for MotherGod) as my beloved husband Richard provided for me. (His spirit is ALWAYS with me!)
On Thanksgiving day, weather permitting, I will go out with the dogs through the 50 acres of wilderness God has given me. We will have wonderful food and the joyful comraderie of the folks on the internet. Yes, I used to be in a living Hell of poverty and pain. It made me strong, it made me want to help others. Now I am free, in every way, and I am helping others. And they love me. What more could anyone ask for on Thanksgiving?
Much Love to All of You My Friends and Family!
Rasa Von Werder
November 22, 2005
DISCUSSIONS ON
---
---

NOVEMBER 21, 2005
DIVERSITY OF GURUS, DIVINE RELATIONSHIPS
Much has happened in the last few months concerning gurus and groups. I have pissed some off and they have pissed me off. What is going on? Can gurus get along together on the same group? Or does each guru have to maintain their own territory and growl at anyone who encroaches?
Personally, I believe in diversity of spiritual thought and I welcome fresh outlooks - personal experiences. Each person who has reached Enlightenment proceeded in their own way and by the economy of God, achieved perfection in a way unique to the individual. There is no absolute formula, to be followed to the letter, in terms of personal experience. One finds God in sixth-floor walkup in Brooklyn, one in a jail cell, another in a suburban house - then it's ashram, sacred grove or railroad station. Each male or female found their salvation with fear and trembling, desperate for God and nothing else, and each has a story to tell that we must hear.
However, in the telling of this tale there has to be some protocol and common sense.
You do not go to the Church of another pastor and declare in her pulpit,
'She is not enlightened, I am.....now hear me.'
You'll get the hook pretty fast. (This was done to me by O but I sorted it out pretty quick, and he apologized. Now we are starting over.).................
SWAMI X & ME
When I first approached Swami X, I did so with respect, and never faltered from it. I gave her all the due homage an enlightened guru should have. I interviewed her for months. I then gave her publicity on hundreds of groups and my valuable site. We had some hard times because I asked the strongest questions she had ever received, which made her really mad. But eventually, we made up and I wanted to start over, with her as the resident nondualist of a special group. What I am saying to you is that I respected Swami, recognized her as enlightened and told her so (without proof, I give others the benefit of the doubt) and set up a group where she was equal to or higher than me. I told everyone they HAD to respect her or they would be banned.
What was the outcome of all this? Swami X did not appreciate anything I did for her by way of love or respect. She felt (don't ask me why) that I owed her, and all was taken for granted. She banned me from two of her groups (one I could understand, but could she not have told me she had to and eased the shock?) but the other, no. She did the good deed of starting a new group just for me, but all that I posted was ripped apart thoroughly by criticism.
Swami X made the mistake of thinking that because I respected her, I was a potential devotee. That I would give up my valuable ministry in the way God was moving me, fall at her feet and make many changes in my ministry. (A friend of mine told me this was what she expected - that I come to her ashram, pay her, give up my ministry and obey her.) This was a lofty bit of presumption on her part. When I gave her an inch, she took a mile. The whole while that I loved Swami X, she tortured me with insults. Now some of this I took with a grain of salt, saying she is a tough guru, and it is good for my soul. But it went too far. She was treading not on my faults, but on the valuable Gifts God had given me, laughing at them and decrying my state in life, my perspective and spiritual understanding. I was in pain all the time. The last straw was she allowed (once again) for others to insult me (totally unfairly) on her own group (they were following her lead) and when I answered with my rebuttal, she nixed all the posts.
I let it rest and one day I awoke to realize I didn't love Swami any more. And then, I was free of her. No more pedestal for her, no more love, she could not hurt me any more. It feel so good to be free of the one hurting you!
Why she hurt me, I could only guess. Some sort of unconscious hate? Jealousy? Cattiness? Competition? Scorn? Who knows, it is over. Let her hate me in private, it cannot affect me any more. But what was the sorry result of the loss of this relationship?
'DIVINE RELATIONSHIP'
I believe in what Roberts Liardon calls, 'Divine Friendship.' That is to say, two souls who are anointed, get together, and both benefit. But the fact that I am ready for this does not mean that they are ready. Somehow, they want to compete. It's her or me, him or me. One of us has to dominate. I am thinking partnership, they are thinking competition.
I was booted off from posting on another group because the resident Devi said one guru was enough. So you don't have visiting Pastors?
I have been to many Churches where it is a privilege to hear a visiting Priest or Pastor. Sometimes it livens things up.
Can you imagine going to a nightclub once a month, and every time you go there it is the same singer or dancer? For months on end, you see the same person. That person might be wonderful, but it is the same person over and over. You wouldn't mind even seeing someone not as good, so long as they are different.
By the same token, can you imagine one tv station, and you can only see what is on that one station? Or just one person in your life day in and day out? Even husbands and wives who love each other need other companionship.
It is the same thing with gurus and groups. I welcome the idea of visitors, fully enlightened or not, who have something to teach. I myself want to learn also - of the Godly experiences of others. It does not mean my experience is faulty or diminished in any way. I have known love, you have known love. Can you share yours with me? That is my attitude.
The road to God is fraught with many things. It is love, pain, desperation, fear and hope, faith, confidence, and varieties of Light and darkness. These events happen in the skin and the atmosphere of an individual, completely different with each one. This is why ministers, gurus, realized souls can speak from the same platform and all shed light on God. They are all valuable, I wish to hear them all.
Now on the internet (as elsewhere), there has to be some protocol. If you go to the domain of someone else, you treat them with respect. If they do not want you there, you have to leave. It is their home. (I have never asked another guru to leave. Nor have I ever booted out an intelligent well meaning person off my group) I am one whose door is open to all good. But be mindful of RECIPROCITY. Do you expect to ask for a link from another domain and not reciprocate with one? Wouldn't that be rude? Now if you have a group, and you are visiting someone else 'preaching', should you not invite the owner of that group to your group? A case in point is O has a group. He talks about LOVE every time he visits my groups. Yes love. But where is the love that would invite me to your group? My door is open to you, is your door open to me? Shall I come to your enlightenment group and make myself available to the members of it? I will not make the mistake of going there and telling them you are not enlightened, I am, hear me. Now the shoe is on the other foot, how does it feel? Am I getting through, O?
The last word is that I welcome anyone who has enlightenment, realization, knowledge or spirituality to share this on my groups and I am grateful for it. All I ask is that you respect me as I respect you.
DISCUSSIONS ON

---
---

NOVEMBER 19, 2005
ARE FEMALES REALLY SUPERIOR AND IS MATRIARCHY THE ANSWER?
A SEEKER ON YAHOO ASKS RASA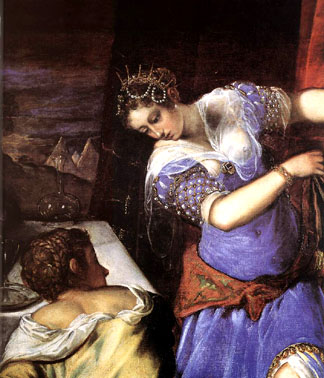 Judith & Holofernes
Tintoretto
Hi, I am new to the group but familiar with rasa's thought through her posts on my group that is concerned with gnosticism. Being that my time is limited today, I wanted to address something(s) that I think are pertinent to this type of thought.

First, I think it is important to remember that in spiritual reality or consciousness and in the heaven realms of the holy light, gender is a non issue.

RASA: THIS IS THE ONLY PART OF YOUR LETTER I CAN EASILY RESPOND TO, AS FOR THE REST OF IT, YOUR FRAMES OF REFERENCE ARE NOT FAMILIAR TO ME. IN THE ARTICLES WE ARE POSTING, THERE ARE NO CLAIMS CONCERNING SUPERIOR SPIRITUALITY OR HOLINESS. (THESE CAN BE IMPLIED, HOWEVER, BY THE MORE RIGHTEOUS BEHAVIOR OF WOMEN IN THEIR COMMITTING LESS CRIMES AND TAKING RESPONSIBILITY FOR PROTECTING AND NURTURING CHILDREN AND ANIMALS) THE CLAIMS FOR SUPERIORITY ARE IN THE SCIENTIFIC DISCOVERIES ABOUT FEMALE IN THEIR GENETICS, BIOLOGY AND PHYSICAL/MENTAL MAKEUP. NOW YOU HAVE STATISTICS THAT ABSOLUTELY PROVE THE FALLACY OF MALE SUPERIORITY AND INDICATE EVERYTHING ON THE SIDE OF FEMALE SUPERIORITY. HOW ARE YOU OR ANYONE GOING TO ARGUE AGAINST THIS?

The division into male and female is a manifestation of the conflict inherent in material physical existence. Gnostics believe that this separation originally occurred as a method to control and abuse humanity.

RASA: BY WHOM? WHO SEPARATED MALE AND FEMALE IN ORDER TO ABUSE THEM? GOD? CERTAINLY GOD IS NO ABUSER!

The sexes were divided according to this viewpoint after the Luminous Christos-Sophia was seen radiant within the primal human.

RASA: I HEARD THIS BEFORE FROM A LADY RUNNING A CHRIST/SOPHIA/MYSTICAL GROUP . SHE HAD BOOKS WHICH I NEVER HEARD OF, AND SAID THAT WHEN MALES SAW GOD IN THE FEMALE, THEY WANTED TO DESTROY THEM AND TAKE AWAY THEIR POWER. (THIS IS VERY APPROXIMATE....THE LADY RAMBLED ON FOR HOURS VIA PHONE WITH ME.....ALTHOUGH SHE HAD SOMETHING GOOD WITH GOD, I DISMISSED HER AS AN AIRHEAD INCAPABLE OF GETTING ANYTHING DONE ON EARTH AND DROPPED THE RELATIONSHIP.)

.............MY OWN RESEARCH - BY SCIENCE, THE PRIMAL HUMAN WAS FEMALE. ALL GENETICS TRACE BACK TO HER. TWO INDEPENDENT STUDIES THAT WERE RELEASED IN LATE 1980'S. ONE THEY CALLED THE FIRST HUMAN 'LUCY.' SO THERE IS YOUR EVE. ADAM IS HER SON. I GUESS YOU COULD SAY LIKE ISIS AND HORUS.

WHEN IT COMES TO SPIRITUALITY, NO ONE IS TRYING TO BEAT MEN UP ON THIS. THEY ARE CAPABLE OF BEING HOLY SAINTS JUT LIKE FEMALE. THE SOUL I DON'T THINK CARRIES 'SUPERIOR' OR 'INFERIOR', ALTHOUGH YOU COULD ARGUE WHAT THE SOUL IS. THE SPIRIT, THE GOD WITHIN, WITHOUT A DOUBT IS EQUAL IN ALL CREATURES, EVEN ANIMALS. GOD LOVES ALL EQUALLY AND AS MUCH.
Women are no more spiritually developed then men, and in spirit all are one soul.

Secondly, I think that the word 'Patriarchy' is thrown around far too much. Its improper usage in this context is misleading. The world has had ages and cultures that have been Matriarchal and Patriarchal. some of both have been corrupt, some of both have been beneficial and good.

RASA: SHOW ME THE PROOF THAT MATRIARCHIES HAVE BEEN VIOLENT AND ABUSIVE LIKE PATRIARCHIES. ALL EVIDENCE POINTS TO THEIR BEING PEACEFUL.

What humanity needs to do is to stop falling into the traps of the archons that divide us a in our common life of the spiritual harvest whether these be of race, sex, caste, or otherwise.

RASA: I FIND IT AMUSING THAT NOW THAT WOMEN ARE GAINING GROUND MALES WANT TO LEVEL THE PLAYING FIELD. WHEN MALES HAD ALL THE ADVANTAGE, THEY NEVER THOUGHT OF DOING THIS.
This corrupt rulership is not representative of most males nor is it representative of Patriarchy as a positive and healthy idea. Neither it nor Matriarchy is the answer though.
The only answer is a balanced society , a society of the CHILD, which is both and neither, being the origin and the higher and perfected product of both. The Child is the reentrance into the Primordial Non-Dual Harmonia

we cant take mental shortcuts. this is a complex situation on all levels and we have to take our time in approaching it if a viable solution is to be found.

RASA: MY SOLUTION IS MATRIARCHY. ALL THE FUTURISTS SAY THE WORLD BELONGS TO WOMEN.
DISCUSSIONS ON
---
---

NOVEMBER 19, 2005
CONFLICTS ABOUT MATRIARCHY
IS CARING THE ONE AND ONLY WEAPON WOMEN HAVE?
REPARTEE BETWEEN RASA & "CHRIS YORK" ON YAHOO

While I am an avid supporter of most feminist issues and come from a matriarchal tribe (Yes they do still exist) I feel that this is a rather one sided view of the issue. A frequent mistake often seen with feminist and women in general who come from an anglo-saxon cultural heritage is to merely transpose the same male societal forms onto what they feel is a revolutionary female social structure.
RASA: THIS DOES NOT APPLY HERE. NOT WHAT I AM SAYING AT ALL. I DID NOT SAY WOMEN SHOULD BECOME INSENSITIVE, BRUTAL, UNCARING AND ALL THE EVIL MEN DO. BUT IF YOU ARE GOING TO USURP A STALIN HITLER MENTALITY, YOU WILL NOT SUCCEED BY BEING MARILYN MONROE.
This does not work. Nor will it work to see only the positives of what women do while at the same time denigrate the role men play in a society.
RASA: DENIGRATE MEN? THE ENTIRE 'HISTORY' IS HIS STORY OF WAR AND ABUSE OF OTHERS. HE HAS DONE LITTLE GOOD. GOOD HAPPENS IN BETWEEN WARS AND WHAT WOMEN HAVE DONE ALMOST NOTHING HAS BEEN REPORTED IN HIS PALTRY STUDY OF WHAT HE HAS DONE. HE, THE VICTOR IN THE GAME OF VIOLENCE AGAINST WOMEN AND CHILDREN, HAS ALSO WRITTEN THE BOOKS, ENCYCLOPEDIAS AND DICTIONARIES. HE GAVE HIMSELF ALL THE GOOD ADJECTIVES AND THE WOMEN, ALL THE PEJORATIVES. AND HOW HAS ALL THIS WORK BEEN DONE? BY THE RESOURCES WOMEN PROVIDED. WOMEN PROVIDED THE MANPOWER/CHILDREN, AND ALSO AS MUCH OR MORE TAX MONEY THAN MEN, AND THIS MONEY HAS BEEN USED TO BENEFIT MORE MALES THAN FEMALES. TOTAL MIND BOGGLING, MIND BLOWING SEXISM AND ABUSE OF WOMEN AND CHILDREN. FOR WHAT? SO HE CAN HAVE A BETTER CAR, A BETTER JOB, MORE WOMEN AND MORE PERKS.
There is a specific reason that men where chosen to lead war parties in my culture.
RASA: TELL THAT TO THE AMAZONS. WOMEN WERE NEVER GIVEN THE OPTION FOR WAR. IT WAS ILLEGAL UNTIL RECENTLY FOR WOMEN TO ENTER MILITARY COMBAT. MANY WANTD TO BUT COULDN'T. THEY ARE BETTER AT EVERYTHING.
It is because men excel in making swift decisions...
RASA: WHAT KIND OF DECISIONS DO YOU SPEAK OF? I AM NOT SAYING MEN ARE USELESS AND I DO ADMIRE ALL THE GOOD THEY HAVE DONE, INCLUDING THEIR SACRIFICES. I ALWAYS GIVE LARGE DONATIONS TO THE VETS AND AM EXTREMELY LOVING TO THEM. I HAVE VOLUNTEERED AT VET HOSPITALS. BUT SWIFT DECISIONS? I DON'T THINK SO. STUDIES PROVE OTHERWISE.
...and are physically more prepared for battle than women.
RASA: YOU MAY BE RIGHT ON THAT ONE. THEY ARE BECAUSE THEY ARE IMPULSIVE AND RECKLESS AND THEY DO LOSE THEIR LIVES THAT WAY - BUT THAT IS HOW GOD MADE THEM BECAUSE ORIGINALLY THEY WERE TO USE THIS TRAIT TO PROTECT WOMEN AND CHILDREN. UNFORTUNATLEY, THIS IS FREQUENTLY USED AGAINST WOMEN, CHILDREN AND OTHER MEN NOT IN RIGHTEOUSNESS BUT IN BRUTALITY. READ MEN, WOMEN AND RAPE BY SUSAN BROWNMILLER. IT IS THE STORY OF WAR CRIMES AGAINST WOMEN AND CHILDREN. DID YOU KNOW THAT IN WAR 98% OF THE CASUALTIES ARE CIVILIANS? DO YOU KNOW HOW MANY WOMEN AND CHILDREN MEN RAPE BRUTALLY, AND SOMETIMES AFTER RAPE MUTILATE CHILDREN RIGHT IN FRONT OF THEIR PARENTS? DITTO FOR GIRLS. THEY ARE BELOW HUMAN, BELOW ANIMAL. IN WAR, MEN ARE DEMONICS.
This is not a sexist view. These are simple facts of our physical and mental makeup as a species.
But by understanding how women ruled in the typical native society much can be learned. For example women always chose the leaders of the tribe and assigned any and all positions of power in the tribe for both men and women. Why was this the case? This was because women where the ones who taught and cared for the children and therefore they were able to watch them as they grew up...
RASA: WATCHED OR TRAINED? A CHILD HAS TO BE BROUGHT UP, TRAINED, TAUGHT EVERY DAY OF ITS LIFE OR ELSE IT DOES GO ASTRAY. BUT THIS PART I AM NOT ARGUING WITH. WOMEN DO KNOW THEIR CHILDREN.
...and they knew which ones had the qualities and fair mindedness necessary for a tribal leader.
It is a male view of the world to see it as an "oyster" that can be owned.
RASA: I AM NOT A MALE NOR A DICK IN A SKIRT. I AM 100% COMPASSIONATE AND SEE IT FROM THE POINT OF VIEW OF MOTHERGOD, WHO I AM ONE WITH. SHE OWNS THE EARTH, NOT MEN.

This is because males traditionally hold a view of separatism and disparate entities whereas the feminine archetype sees a world of interdependencies where all play an important role and work in harmony together.
RASA: THIS IS MY VIEW ALSO. 'MINDWALK' IS A MOVIE I HAVE ON VIDEO THAT SPEAKS OF THIS. VERY GOOD. IN MY HOLY TRINITY, 'CREATION' IS THE SECOND PERSON, EQUAL TO GOD.
The matriarchy the world needs is not a physical matriarchy. It is psycho-social archetypal matriarchy that embodies a spirit and a world view that has been sorely lacking in the world for going on 4000 odd years.
RASA: HOW ARE YOU GONG TO HAVE THIS PSYCHO SPIRITUAL MATRIARCHY WITHOUT THE PHYSICAL? DO YOU WANT TO REMOVE WOMEN FROM MATRIARCHY? AND WHY? YOU SAID YOU BELONG TO A MATRIARCHAL CLAN. WHAT WILL YOU DO WITH THE WOMEN?
Any attempt to put a feminine face on the same male politics is doomed to failure. The spirit of the times calls for more than this and regardless of any of us as individuals it is what will come about eventually.
It is also interesting that you use the symbolism of the snake laying in the grass. As our western religions hint at, the snake is a feminine symbol that has been in place since the early days of our species. But why a snake? Does the snake not immediately bring to mind a phallic association? Yes it obviously does. If that is the case how can the symbol be feminine?
There is an old concept of dualism in most aboriginal and native societies that is unfamiliar to most moderns. It is the concept of nesting. Nesting is essentially the idea that inside of everything there is its opposite. So inside of every female is a male soul and inside of every male is a female soul.
In india when women want a child they worship snakes. Anytime we want transformation or change we seek the opposite. By bringing the opposite within ourselves then we transform ourselves.
The snake as a symbol is very earth centered. The snake is a creature that crawls on the ground. The snake also sheds its skin yearly which symbolically represents the change of the seasons and the ever turning cycle of nature. By the same token, the snake is also considered to be the ouroboros which again represents a never ending cycle.
RASA: SNAKES REPRESENT WHATEVER YOU BELIEVE. IN THE WEST, THEY ARE THE DEVIL. BECAUSE THEY CRAWL THROUGH THE GRASS AND YOU CANNOT SEE THEM, AND THEY STRIKE. IN THE EAST, THEY REPRESENT THE KUNDALINI SHAKTI (HOLY SPIRIT) AND THEREFORE, ARE WORSHIPPED FOR MANY THINGS. SNAKE IS GOD. I SEE THEM BOTH WAYS, AND CAN CALL A PERSON A SNAKE IN THE PEJORATIVE, BUT ALSO REVERE A SNAKE AS A SYMBOL OF GOD, GOODNESS AND CREATION.
And in the feminine spirit of things I don't want to call any one viewpoint wrong. There is certainly merit and truth in most views and I can agree with much of what you say. It seems that in nature growth is always about synthesis instead of division. Therefore I would guess that the synthesis of the old matriarchy and the modern patriarchy would lead to a better solution than turning the clock back to either that have come before.
RASA: IT ISN'T VERY COMPLICATED. WOMEN RULE, MEN FOLLOW AND WORK WITH WOMEN OR COOPERATE UNDER THEIR MATERNAL, WISE COUNSEL. MEN ARE MEMBERS, BUT THEY ARE NOT THE ULTIMATE LEADERS. THEY CANNOT BE TRUSTED, HISTORY REVEALS THAT TO US. NO ONE CAN STOP WHAT IS COMING. IT IS MATRIARCHY.
The problem that we all agree on is that the voice of the female has been silenced in society for much too long and the world has suffered greatly because of this along with the earth. There are many words which the female speaks of - words we desperately need to hear. So even the dark goddess aspect is better than the lack of a goddess aspect at all. And to be sure, the goddess is always triple in aspect.
RASA: YES, VIRGIN, MOTHER, CRONE. MOST OF ALL, THEY HAVE SILENCED THE CROAN. HOW I YEARN FOR THE CROAN, THE SENIOR CITIZEN WHO HAS LOST HER FREEDOM OF SPEECH, BECAUSE NONE WILL HEAR HER!
MUCH LOVE, RASA VON WERDER
DISCUSSIONS ON
---
---
NOVEMBER 13, 2005
DIFFERENCE BETWEEN CONVERTING
RELIGION & SAVING SOULS


A MISTAKE MANY OFTEN MAKE IS ATTEMPTING TO CONVERT A PERSON RATHER THAN SAVE HIS OR HER SOUL. FOR EXAMPLE, JUST SO THEY COULD HAVE MORE MORMONS. I DO NOT AGREE WITH THEIR RELIGION BUT I DO ADMIRE MANY GOOD QUALITIES THEY HAVE AS I HAVE DONE A LITTLE STUDY ON THEM. I HAD MORMONS COME HERE AND EXPLAIN THE WHOLE DEAL TO ME. AND BASICALLY I ASKED THEM IF WOMEN HAD EQUAL RIGHTS IN THEIR ORGANIZATION AND THE MALE AND FEMALE BOTH EXCLAIMED NO. IN FACT, SHE SAID IT WOULD BE ABNORMAL FOR A WOMAN TO BE A MINISTER.

THAT CLOSED THE CASE FOR ME ON MORMONS.

PLEASE BE AWARE THAT CONVERTING PEOPLE TO ANOTHER RELIGION AND SAVING SOULS ARE TWO DIFFERENT THINGS.

SAVING SOULS IS WHEN YOU FIND A 'DEAD' SOUL OR A PERSON THAT IS NOT LINKED WITH GOD. THE DEAD IN SPIRIT CANNOT RECEIVE THE GRACE OF GOD. THIS IS WHAT WE ARE FIGHTING. WE ATTEMPT TO 'BRING TO LIFE' OR BIRTH THE SOULS WHO ARE NOT LINKED WITH GOD. THESE PERSONS, IF LEFT UNATTENDED, WOULD GO TO WHATEVER HELL THERE IS, WHATEVER WAY ONE INTERPRETS HELL. BUT THEY CERTAINLY WILL NOT ENTER INTO THE GLORY OF HEAVEN.

SAVING SOULS IS TO PREVENT PEOPLE FROM THIS DISASTER AND MAKE SURE THEY ARE LINKED WITH GOD AND ENTER GLORY. THAT TAKES WORK, AS SOULS WHO ARE DEAD HAVE NO IDEA THEY ARE DEAD - BECAUSE THEY ARE TOTALLY IMMERSED IN SENSE, TIME AND SPACE. IT IS YOUR JOB AS A MISSIONARY TO CONVINCE THEM THEY NEED TO OPEN THEIR HEART AND MIND TO GOD AND LET THE GRACE OF GOD ENTER THEIR SOUL. I HAVE DONE LOTS OF THIS KIND OF WORK AND SOMETIMES IT SEEMS IMPOSSIBLE, AT OTHER TIMES, FAIRLY EASY. SOMETIMES IT HAPPENS IN STEPS OVER A PERIOD OF TIME, OTHER TIMES, RIGHT HERE RIGHT NOW.

I AM AWARE THAT THERE ARE THOSE WHO ARE MISGUIDED - IN PARTICULAR FUNDAMENTALIST CHRISTIANS WHO ARE FANATICS - WHO PREACH AND IRRITATING AND FALSE MESSAGE THAT YOU CAN ONLY BE SAVED BY THE NAME OF JESUS CHRIST. AND OF COURSE, THEY WOULD CONSIDER EVERYONE NONCHRISTIAN TO BE LOST AND HEADED FOR HELL. THEY MAY BE SINCERE BUT MISGUIDED AND YOU CAN ADMIRE THEIR ZEAL AND CONCERN, BUT NOT THEIR DOGMA.

(REMEMBER JIMMY SWAGGART WHO SAID MOTHER TERESA OF CALCUTTA HAD TO BE SAVED? THESE TYPE PEOPLE WOULD CONSIDER SWAMI G, GANGAJI AND ALL OUR FAVORITE YOGIS UNSAVED)
ASIDE FROM THAT, THERE ARE OTHERS WHO SEE THE GOD IN ALL RELIGIONS AND THE BORN AGAIN EXPERIENCE IN ALL RELIGIONS, AND THEY RECOGNIZE THAT SOULS WHO LOVE GOD ARE LINKED TO GOD, WHATEVER RELIGION THEY ARE IN.
DISCUSSIONS ON
---
---
NOVEMBER 7, 2005
RASA VON WERDER GIVES
THE SECRET OF SAVING SOULS!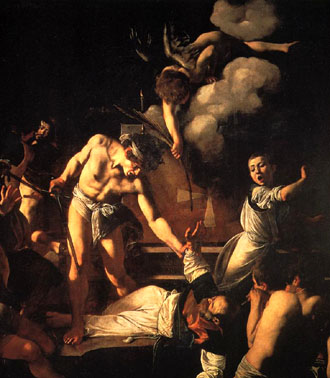 The Martyrdom of St. Matthew
Caravaggio


DEAR SWAMI G & RON - GREETINGS -

I HOPE NO ONE IS OFFENDED IF I JUMP IN HERE.

I WAS DISGUSTED WITH PEOPLE WHEN I SAW THE WAY THEY DID NOT RESPOND TO SWAMI G BUT I MUST ADMIT, GANGAJI (I BELONG TO HER GROUP) (AS WELL AS OTHERS), SEEM TO BE EVEN QUIETER. I DON'T KNOW A GREAT DEAL ABOUT HER BUT SWAMI G SAYS SHE IS A QUALIFIED TOP RATE GURU, AND SHE IS THE BELOVED OF MY CLOSE FRIEND HARVEY. (HARVEY SHOWS HER VIDEOS WEEKLY FOR A GROUP IN HIS APARTMENT.)


NOW ONE THING I HAVE NOTICED. THE HIGHER YOU GO, THE LESS PEOPLE ARE WILLING TO FOLLOW YOU. WHY? IT IS SIMPLE. IT IS RARIFIED ATMOSPHERE. IT IS THE PLACE OF THE ANGELS AND SAINTS, WHERE THE HOLY OF HOLIES LIVES. HOW MANY ARE CAPABLE OF, OR DARE, TO TRAVERSE THIS PLACE?


NO, PEOPLE ARE INVOLVED IN LOWER THINGS. THEY ARE DISTRACTED, THEY ARE ATTACHED.


I ALSO STARTED OUT JUST TALKING ABOUT BEING A GURU. IT WAS FINE FOR A WHILE. I REJECTED EVERYONE ON LOWER LEVELS, THAT IS TO SAY, WHEN THEY STARTED TALKING OF LOWER THINGS I STOPPED THEM. I TOLD THEM THIS IS A PLACE FOR GOD AND GOD ALONE - NO TALK OF OTHER THINGS. BUT AS THE MONTHS WENT BY I HAD A VISION, AN UNDERSTANDING. IT WAS THIS:
GOD LOVES ALL. GOD LOVES THEM ON LOWER LEVELS AS WELL AS THE HIGHEST. YES, THEY ARE DOWN THERE IN HUMAN SENSE AND ATTACHMENTS. AND THEY WAIT FOR GOD OR SOMEONE TO SAVE THEM. MEANWHILE, THE GREAT MASTERS WAIT FOR PEOPLE TO COME AND ASK QUESTIONS. AND WAIT, AND WAIT, AND WAIT. THE MASTERS ARE WAITING, THE VICTIMS OF DELUSION ARE WAITING, AND NOTHING HAPPENS.

SO WHAT IS THE SOLUTION? MY SOLUTION HAS A FEW FACETS. ONE, WE ARE GOD IN THE HIGHEST UNDERSTANDING. THE MASTERS HAVE GOD REALIZATION, AND WORK AS INSTRUMENTS OF GOD. SO IT IS THEIR SOLEMN DUTY NOT TO WAIT BUT TO GO OUT THERE AND BRING IN THE SHEEP. THE SHEEP ARE SMALL, FRIGHTENED AND DEFENSENESS. THE MASTERS ARE BIG RAMS WITH HORNS - WITH WEAPONS. THEY CAN PROTECT THE SHEEP AGAINST WOLVES, LIONS AND BEARS. (THE SINS OF THE FLESH AND THE WORLD AND THE DEVIL) BUT THE RAMS MUST GO INTO ACTION.
GOD LOVES EVERYONE ON ALL LEVELS, INCLUDING THE LOWEST. GOD IS READY TO SAVE EVERYONE AT ANY MOMENT, NO MATTER HOW LOW THEY HAVE FALLEN. OR HOW PITIFULLY THEY ARE TIED DOWN TO HUMAN SENSE.

IN GREAT COMPASSION, THE MASTERS MUST GO TO THEM!
MY TEMPLATE FOR THIS WORK COULD BE GENERAL WILLIAM BOOTH, WHO WITH HIS WIFE, STARTED THAT PHENOMENON CALLED 'THE SALVATION ARMY.' (ORIGINS IN ENGLAND WM BOOTH 1829-1912)

GENERAL WILLIAM BOOTH HAD A SPECIAL CALLING TO THE POOR. HE COULD NOT REST ONE DAY OF HIS LIFE UNTIL HE REACHED OUT TO THEM AND HELPED THEM. HIS WIFE WAS AS IMPORTANT AS HE, WRITING ALL HIS SPEECHES AT FIRST, AND THEREAFTER, BECOMING A SPEAKER AS WELL. THE TWO WERE A POWERHOUSE.
FIRST, WILLIAM BOOTH WORKED FOR HIS TRADITIONAL CHURCH. THEY TOLD EVERYONE TO BRING IN NEW SHEEP. WILLIAM BROUGHT IN THE PEOPLE OFF THE STREETS. THEY TOLD HIM,

'THESE ARE NOT THE KIND OF PEOPLE WE WANT. WE WANT RESPECTABLE PEOPLE.'
WM BOOTH AND HIS WIFE WERE OUTRAGED AND SHE CRIED,

'HELL NO!'

THEY LEFT THAT TRADITIONAL CHURCH, NEVER TO LOOK BACK. THE TWO OF THEM WENT OUT AND DID THINGS THAT COULD ONLY BE CALLED MIRACLES. I HAVE HOURS OF AUDIO TAPES ON THEM PURCHASED FROM ROBERTS LIARDON MINISTRIES, LAGUNA CA.
THEY HAD A LIST OF WHAT HAD TO BE DONE TO 'SAVE SOULS'. GUESS WHAT THE FIRST RULE WAS? LISTEN CAREFULLY:
'GO TO THEM.'
SIMPLE, ISN'T IT? GO TO THEM! BUT YOU CANNOT SAVE A SOUL LEST YOU GO TO THEM. WHERE DID THEY GO? TO SKID ROW, TO THE BOWERY, TO THE BARS. THERE WERE NUMEROUS FIST FIGHTS AS MINISTERS STOOD OUTSIDE BARS PREACHING AND HOPLESS DRUNKS CAME OUT AND DID NOT WANT TO BE PREACHED TO. BUT SOMEHOW, IN THE LONG RUN, THE MINISTERS PREVAILED.
WILLIAM BOOTH THOUGHT OF EVERY STRATEGY IN THE BOOK TO GET PEOPLE OFF THE HOOK OF THE FLESH AND ONTO GOD. HE KNEW HE COULD NOT ATTRACT THEM WITH LOFTY TALK, IT HAD TO BE ON THEIR LEVEL. HE IS THE ONE WHO ORIGINATED THE IDEA OF THE BAND ON THE STREET, SINGING RELIGIOUS SONGS, BUT SET TO THE TUNE OF EVERYDAY POPULAR TUNES. THEY WOULD DRAW A CROWD, THEN PREACH. THE IDEA WAS, ALWAYS TO DRAW A CROWD! THIS WORKED IN EVERY AREA THEY WENT TO, EXCEPT FRANCE.
HE SENT MISSIONARIES THERE BUT THEY HAD NO LUCK. THE FRENCH PEOPLE WOULD NOT STOP AND LISTEN TO THE MUSIC NOR THE SERMONS. WM BOOTH STUDIED THE SITUATION A BIT FURTHER. HE THEN REALIZED THE FRENCH LOVED TO DANCE, IN DANCE HALLS. SO HE SET UP A DANCE HALL. THERE WAS FIFTEEN MINUTES OF DANCING, THEN FIFTEEN MINUTES OF PREACHING. THIS WORKED. MR. AND MRS. BOOTH SAVED SOULS.
IN ORDER TO SAVE SINNERS ONE HAS TO GO TO THEM. WHERE ARE THEY? THEY ARE IN HUMAN SENSE, DISTRACTED, ADDICTED, HOOKED IN. THEY ARE IN THE PLACES OF THE WORLD, THE FLESH AND THE DEVIL. THERE ARE A FEW IN 'THE CHOIR' BUT THESE ARE ALREADY ON THEIR WAY TO THE HEIGHTS. SHALL WE RESTRICT OURSELVES TO THESE ALONE? THEY ARE A SMALL NUMBER WAITING TO CLIMB UP THE LAST STEPS INTO THE PEARLY GATES. DO WE ATTEND TO THESE ALONE? IF WE DO, OUR GROUPS AND MINISTRIES WILL BE QUIET.
TO THE EFFECT OF FINDING LOST SHEEP I HAVE STARTED TO SET UP ORDINARY GROUPS WHO WORSHIP BEAUTIFUL WOMEN, AND ALSO, PAGAN STYLE GROUPS. (NOW PAGANS ARE BY NO MEANS LOST, THEY ARE SIMPLY A DIFFERENT POINT OF VIEW. NOW THAT I UNDERSTAND PAGANS AND WICCANS I HAVE MORE RESPECT FOR THEM THAN I DO CHRISTIANS!)
AT ONE TIME, I WAS A DANCER. I DANCED AND PREACHED. BETWEEN 1972 TO 1987 I TRAVELLED THE U.S. AND CANADA, DANCING AND GIVING SERMONS. IT CREATED A SENSATION AND I BECAME WELL KNOWN UNDER A DIFFERENT NAME, GETTING INTERNATIONAL PRESS ON A REGULAR BASIS. WHAT WAS I DOING? WAS I PREACHING DEGENERACY AND SEX? NO. A MOTTO WAS,

'WE GO WHERE PRIESTS AND NUNS FEAR TO TREAD.'

WHEREVER I WAS, I PREACHED GOD. ONE DAY I SAT DOWN AND BASED ON NUMBER OF JOBS AND SHOWS I FIGURED I HAD GIVEN 1,000 SERMONS IN THEATERS AND NIGHTCLUBS. WHAT AN OPPORTUNITY! WHAT OTHER MINISTER COULD HAVE DONE SUCH A THING! GOD NEEDS TO GO EVERYWERE.
TODAY, I AM RETHINKING MY STRATEGY OF FINDING LOST SHEEP AND I DON'T CARE HOW MUCH CRITICISM I GET. THE NAYSAYERS ARE COMING AT ME FROM ALL DIRECTIONS, BUT I (I AM) WILL PREVAIL. IT DOES NOT MATTER. AS LONG AS SOULS ARE BEING REACHED, AND WE CAN PREACH TO THEM AND BRING THEM THE WORD (THE TRUTH) AND THE LIGHT (THE ENERGY, HOLY SPIRIT, SHAKTI) AND THE WAY (THE UNDERSTANDING) THEN WE ARE DOING THE BEST THAT CAN BE DONE.
MUCH LOVE TO YOU ALL,
I REMAIN,
RASA
DISCUSSIONS ON

AT THE BOTTOM OF THE SWAMI G MESSAGE,
ARE THE REMARKS OF 'RON' WHICH BEAR NOTING
RON'S REMARKS & COMMENTARY

Namaste -

The group was opened to all ------ no one is using it . Is it time to pull the group entirely off the net ?


After 6 years of working towards aiding humanity has it come to this ?


That even when opened without moderation no one posts ?


Why is it that groups that carry nothing other than nonsense are active with hundreds of posts every day ...... ?


Can anyone answer this question?


Have all the years of work born no fruit ? Is it time to simply walk away totally?


What is the saddest commentary here is that when things are given from the heart without limit without being sold in big marketing ploys no one has taken up the mantle to further this work or this guru's message to the world ......


People complain about all the fraudulent guru's ..... when you get one that has kept personal integrity and has not simply set up marketing ploys in order sell the truth -- nor to gain a big name ---- people become complacent .......


Has all that has been given over the years meant nothing other than a momentary diversion for your amusement ?


Are you serious about progressing ?


While the net can give a taste of what is given here .... it doesn't give the Whole meal ..... It is time to either begin to open up to deeper commitments such as starting having a local meditation group ....

setting up for a Retreat with Satsang - Diksha and instruction in your area ..... for which i Still hold the commitment to attend IF the transportation costs are met .....

More than this i cannot do ------ as i am not a wealthy person.....


Now which is it ?


Is this at an end ? or will it go forward ?


While yes some have voiced that the groups have been an aide and entertainment in their lives ----- my question is this. Is this all people want ? a taste ? or are you ready to plunge in ?



As I said in the other group, I just found out about Swami G through Rasa and I am still surprised every day that such a thing like this exists on the net.
This post reminds me of what recently happened with TM and Maharishi. He decided to have a rectification course for the TM teachers and start a new movement, Only those who will commit to teaching full time will be authorized to teach TM in the future. Maharihsi has trained maybe 40,000 teachers over the last 50 years.
So, about 500 people attended the course. I heard Maharishi was in shock that after 50 years, this is all that came forward. Nonetheless, it seems it is the compassion in any Guru that keeps them going regardless of the circumstances?
---
---
NOVEMBER 5, 2005
ADMONITION TO STUDY THE LIVES
OF SAINTS OF ALL RELIGIONS
WILLIAM BRANHAM, AMMA & OTHERS

William Branham was a marvelous prophet/faith healer in the 50's. I learned of him from a fundamentalist preacher named Roberts Liardon; bought an hour long tape on his life.
William was a little boy in the hills of Kentucky, going to the well for water, when on his way back he heard a voice from a tree, and saw a Light. An angel spoke to him from the tree and told him he was chosen by God and never to consume hard liquor and lead a good life.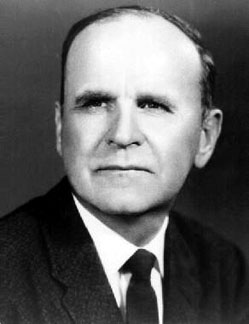 Many years later he went into the active ministry and did great prophecy and faith healing. I saw original footage from Liardon of his work, and it was marvelous. A little girl cured of Leukemia, a woman from cancer, etc. This angel stood over him in the form of a light, right behind his head. Everyone could see it. I saw photos.
He became exhausted and quit his ministry and went back into the woods to recover, but came back again. Later he started teaching, and Liardon said his teaching went awry, as he was not perfectly educated.
But the anointing is the anointing! As he lay after a car crash, dying, his last act was to heal his wife, dying next to him. She recovered, he was buried. The gift is for others.
EXPERIENCE OF AMMA!

Now there are more than one great female yogis emerging in our mainstream. The one I am most familiar with is Saint Amma, the hugger. I know who she is because she appeared to me and anointed me. Her power is absolutely sublime. We had incredible darshan. I gave her my spiritual support and she touched me, took me aside, and spoke to me in perfect English. She told me,
'You teach! You must teach! You teach!'

Her touch and hug was indescribable. I was euphoric for days. She gave me, in the spirit world, what people receive in person. I was lucky I did not have to go there in person, as it was impossible. Amma, in speaking to me in English, exhibited her Holy Spirit Gift called 'mission tongues.' This was well known in the old days. It enables a missionary to communicate with those of foreign languages. Her hug is not the hug of a relative. It is a sacrament - a transmission of Shakti or Holy Spirit. And oh, what she transmits is sublime!
Saint Amma touches thousands of people with her every visit. She transmits great spiritual power; healing and lifting people, and they are anointed and blissed out. Her presence is a touch of Mother for those who have none, or those who didn't get enough. In one moment, you have the presence of a Mother condensed, spiritualized and shot into you like a love drug. There are others, as I said, but I know Saint Amma 'personally.'

---
My advise to all of you here is to read, study and meditate on the lives of saints. The lives of saints, plus scripture of various religions, will do you more good than all the secular books in the world. The secular books take you to little or nowhere, they are a dead end. The lives of the saints edify and inspire, and show us the way, the truth and the life. God after the saints. I studied saints all my life and they are responsible for who I am today, a Guru who is anointed and can also do prophecy and faith healer, shaktipat and marvels. Study the lives of the saints of all religions!

RASA VON WERDER
NOVEMBER 5, 2005
---
---
PASTOR'S LETTER
AUGUST 03, 2005
GOLD COMES BACK!
Just last night an old friend, Gold, returned. We had had a "falling out" of sorts. Not that we hated each other, but I scolded him and he ran off.
Now Gold is a believer, strongly, in Matriarchy. But he was going about it the wrong way, I thought, and I did not like too much a project he was working on. But he liked it. To me, it wasn't spiritual enough and I wanted him to take the spiritual route, following me, rather than setting up a message board with fem/dom images. OK, femdom is not a sin, but it ain't spirituality. I yelled at him, saying this won't do, spirituality is the key, but he said this was something he had to do - it was just the way it was going to be. I did not want him to run off. What is interesting to me is that I've been asking/begging so many to help with the Church and they have failed. And yet, guys who I did not expect have come through. Gold was one of them. He's the guy that got me started on yahoo, by setting up Mothergod for me, and making me an owner. That got the ball rolling, and today, because of yahoo work I have done we are getting over 1,000 people daily at the Church. Two other men - associates, not devotees - also came through. Helmut Mestel started Rasadevotees (I don't even know the man!) and recently my friend from over a year ago, Brother Markos, set up two groups for Matriarchy, inspired by our talks.
This brings up another point. Who is a devotee? What is the role of a devotee and who are these guys who are not devotees, but are helping the Church? It is so neat and sweet that you have people who say they will do everything for you, and they do nothing, while those who make no claims, just friends, out of the clear blue, do things to help. I will call these doers "associates." Here is where Mothergod and the Eternal Universe provide.
This is the lesson I am learning, and there are lessons my devotees must learn. And so, I am in relationship with two kinds of men, those who I call devotees, and those who harbor no such title, but simply become helpers, and these I will call associates. When I analyze the difference, the devotees are separated only in their psychology, in that they want to have a relationship with me where I am the dominant person, the Guru. Whereas the associates believe in the cause first and foremost, that is, Matriarchy and Mothergod, and the relationship of "submission" to me is irrelevant. I think an adjustment should be made in both cases. My devotees should be more zealous for the cause, and the associates should understand that I AM THE LEADER.
Which brings me back to Gold.

I yelled at Gold for a number of things. One of them was he kept saying that I could be the prophet of the Great Female to come - the Female Messiah. That was a real whacker. What is a Messiah? The one the other cows knock over the barbed wire fence, and as she lays there, climb over her to get to the apple tree. This is how it works. I've been the Messiah for women before. You are nailed to the Cross after you have brought them to the Promised Land, nailed and used and swept aside when freedom comes. This is what I argued with Gold about, but he didn't believe me. He saw this "Female Messiah" as a young (much younger than me) and beautiful, sexy dominatrix, who also has brains. And somehow, by some miracle, "She" would usher in Matriarchy. Gold would work with such women, of whom he knew a few, and together, they could get the work done - or so he thought.
Gold, with a fake name and identity (I myself do not even know his real name or number!) was ready to climb Mount Kilimanjaro. He left me, with my style of leadership, and went his direction for six months with the women who said they could do it. No matter what I had told him about the anointing, and the power of God being the important ingredient, he had to find out for himself. I do admit that I have tough ways. I yell and scream at the men. But the world drives you to it. You'll scream or go mad. You work your fingers to the bone and they laugh, and pick on you, and target you and not only do they (people) not give help, but they try to stop you from the progress you want to make. Yes, I yell and scream. And if that scares you, then Jesus would scare you, also.

So would most of the Saints.
Almost six months went by. I e mailed Gold a couple times, but he didn't answer. I was real sad about it. He says he never got those e mails. Then one day, I e mailed him again, recently, and he called. He told me an amazing story.
He had been so used up and frustrated by trying to work with women, he had fallen flat on his face. He that day was about to make a decision to turn his back on the fight for Matriarchy. Just walk away. Then he got my e mail, and it made him start all over again. I said to him,
"Didn't I tell you that you cannot work with women?"

(He didn't believe me.)
"They will leave you black and blue and bloody. They do not, can not work for themselves, (lest they are chosen by God)...they are afraid and they are selfish...they work for the bottom line, survival and safety...whatever you think of them, whatever they say, they will not fight for the cause...they will wait for a brave powerful woman, like myself, to take all the risks, all the shots, and after I have done the work together with my men, and succeeded, then they will join in. They, you think are so magnificent and powerful because they are young, beautiful, and sexy. They don't have the power on the inside. They have not the anointing. I have the anointing, which is the power of God. Gold, help me, I had said to him. It has to be done in a spiritual way, not the femdom way. He didn't believe me. He worked with them, they destroyed all his hopes and his plans. They let him down totally, just as I said they would. I told him, the work will be done (for Matriarchy) by me and the men who help me. And we must do it without expecting a reward. That is the difference between myself and the others out there. To be the woman chosen by God one has to be self-sacrificing, not selfish. One must be dead-to-self and obedient to God, not vain and proud. One must be zealous and focused on God and Cause, not lazy and centered on personal survival. And that is why God chose me for the cause, to empower me WITH GOD'S POWER, BECAUSE I WORK FOR GOD, NOT FOR MYSELF. That is the single, distinct, absolute difference between myself and most other people who seem to be involved with Matriarchy/female empowerment - God showed me this in a dream. While most people are looking for fame and fortune, recognition, a self- sacrificing soul stands out. That soul works not for self, selfishness, survival, personality or personal interest. That person surrenders to God and is willing to do whatever it takes no matter how much the suffering is, and no matter the fact that there will be no recognition. And that is the one chosen by God. That is the person you should set your standard on and go with her, because with the others you will come to a dead end. Those who work for world and flesh will not get this to where it has to go. This is determined by God. It cannot be done for any reason but by obedience to God. Look to the spirituality of the persons you serve in this cause. Where is their allegiance, their love? What are they looking for? Look at their heart, their mind, their spiritual goals. That is where you'll find where they are at. If they are deficient in those areas, be they called Matriarchs or dominants or whatever, then they fall short of what is needed. Anyone can put up a shingle called "dominance" and reap the paltry rewards of the world. But "dominance" is but a small pitiful fraction of Matriarchy, just a slim shadow of it. Most of Matriarchy is responsibility, self- sacrifice, suffering, hard decisions, planning, discipline and virtue. If you think any other way, God will prove you wrong.
Now, on another note, I was told by a couple people,

"Your style of work is all very well and good, but I have to work for a living....or...."she has to work for a living, she is not independent as you are."
This was said to me by a female and a male, as a sort of rebuke, like they would do what I am doing if they had the means. Hey, don't fool yourself. First of all, before I had the means, since my middle twenties, I was working for God. When I was poor I worked for God. When I was rich, I worked for God. In between, I worked for God. I had a tv show, twice, in Manhattan, for God. No money in it. I had a storefront Church, which I supported, for God. I walked the streets preaching for God. I went on tv shows for God, did publicity for God. For many years, before I retired and started the Church on the Internet, I worked for God. So what are you talking about? These women, who are working for a living are doing exactly what I did, but they are not working for God. Why are you making this distinction, "I have to" or "She has to work for a living?"

The only difference in my work now is that I can dedicate not part time, but full time to the Church, and it is still all me supporting it. And get this, when I was working I also gave hefty sums of money for Masses for the Souls in Purgatory, sometimes 25% of my income when I worked. Do you know any other woman who does that?
Putting this aside we return to God. What did he do for six months? He started that project I told you about, the femdom blog group. Now he was excited about another project he wanted to promote, and he insisted I get onto the blog environment and start talking to all the young women. He went on and on about this. I believe in the cause he spoke of, and I told him I would put it on my site if he wrote it up, and on my groups. But right now I was knee deep in joining yahoo groups and posting my articles. I was doing this every day. But he insists, insists I go to these Journal Blog groups, and do likewise. I told him, there isn't enough time in the day for me to do all this! Then I asked him again,
"Will you help me build the Church?"
And he says the classic, like so many others have said to me,
"BUT WHAT CAN I DO?"
'GOLD, THAT'S WHAT THEY ALL SAY! WHY DON'T YOU JUST SIMPLY DO EXACTLY WHAT YOU ARE TELLING ME TO DO?....After all, you are involved with these groups. One group not a summer makes. You have to maybe have one, but you have to join and post on hundreds. Since this is your area of expertise and interest, this is what you do for the Church. I have all the articles available, you or I can write a short intro., and away you go."
Now what Gold had to understand - which was hard to take - was that he could get farther ahead by working under me, helping the Church, than without me. When he went on his own, it came to naught. The same happened to Brother Markos. We had talked for many hours about the cause. Then we went our separate ways, he saying he'd get things done in his own area, and I started the Church. Check back one year later, and Brother has not made an impact. Once again, I ask him to help and he starts. Then I tell him about a new project he is doing - make sure it is under the banner of the Church, because if it is not, I will not continue supporting him. Now that makes it clear. Maybe he didn't care for that too much and it hurt his pride. And in the last letter, he said he was too busy to work on the project. Maybe he'll get to it, maybe he's mad.....
And there's the rub. All these guys - whoever they are - say they believe in Matriarchy, female empowerment, female superiority and dominance. But when I assert my dominance and give not an order but a strong suggestion - away they go! Scatter to the four winds! So what are we dealing with here? Who is leading who? If you believe in Matriarchy, why don't you obey the Matriarch? Or will you, the male, run the Matriarchy?
So I think Gold has decided to work with the Church because he finally has come to his senses and seen the wisdom of it. Ponder this - how can a single man, working alone, start Matriarchy? Doesn't it make sense that each man and as many men as possible, join a woman who is anointed by God, and help her build the Church of Matriarchy? Doesn't it just make sense? What can any individual man do on his own that will make an impact? Please get back to me with your thoughts on what I have said and whether you agree with this wisdom. And if you have any suggestions of not what I can do - but what you can do for the Church - please let me know.
---
---